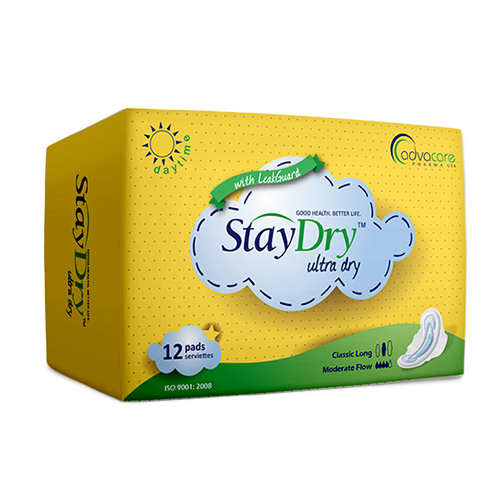 Loading…
(choose the specifications you require below)
Type:
Daytime;Nightime;Pantyliner
Material:
UltraCotton Series (Soft Cotton);UltraThin Series (Mesh Film);UltraDry Series (Soft Non-Woven);UltraDry Series w/LeakGuard (Soft Non-Woven)
Length:
Classic Normal;Classic Long;Ultra Long
AdvaCare is a CE, ISO and USFDA manufacturer of Sanitary Pads.
A sanitary pad (also known as sanitary napkin, towel and menstrual pad) is a disposable pad manufactured with absorbent material worn to absorb menstrual flow, for recovering from vaginal surgery, for lochia (post birth bleeding), an abortion, or any other situation where it is necessary to absorb the flow of blood from a woman's vagina.
AdvaCare sanitary pads are available in three different types of top sheets (film, non-woven, and film mesh), each made with a different material that makes it suitable in different situations, and various sizes for better absorptions of different volumes of blood.
AdvaCare is trusted by international distributors as a high-quality manufacturer of sanitary pads and our products lines are ISO, CE and USFDA certified.