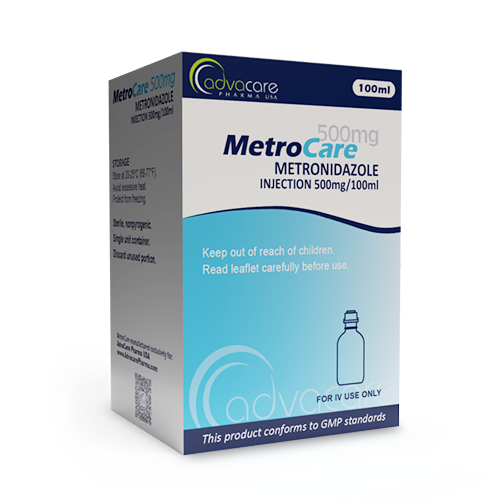 Loading…
(choose the specifications you require below)
Dosage:
50mg/10ml;500mg/100ml
Packaging:
1 vial/box;10 ampoules/box;50 ampoules/box
Therapy:
Antibiotic, Antimicrobial, Antiprotozoal
Active Ingredients:
Metronidazole
General Information:
AdvaCare is a GMP manufacturer of Metronidazole Injection.
Metronidazole Injection is an amebicide used to treat and prevent infections caused by anaerobic bacteria. It is also used to prevent infections in the intestines before and after surgery. Metronidazole Injection works by killing and preventing the growth of bacteria. Metronidazole Injection can cause cancer in laboratory animals, so consult your doctor before using this injection.
Metronidazole Injection is given by injection into the vein by a healthcare professional in a hospital or clinic setting. Each mL of injection contains 5mg metronidazole.
Side Effects:
As with all pharmaceuticals, some unwanted effects can occur from the use of Metronidazole Injection. Always consult a doctor or health care professional for medical advice before use.
Common side effects include, but may not be limited to: swelling near the injection site, unusual taste, vomiting, diarrhea, thirst, loss of appetite, and tingling sensation. Seek medical attention if the following develop: allergic reaction, confusion, dizziness, dizziness, seizure, body aches, breathing problems, itching, hives, fever, or joint pain.
For a comprehensive list of all possible effects, consult your doctor.
If any symptom persists or gets worse, or you notice any other symptom, then please call your doctor immediately.
Always consult your doctor or pharmacist before having metronidazole injection.
If your condition does not improve or becomes worse, then call your doctor.
Driving or operating machinery should be avoided as it may cause dizziness or drowsiness. Do not drive or operate machinery until you know how this medication affects you.
Do NOT use metronidazole injection if:
You are allergic to metronidazole or other containing ingredients;
You are pregnant in the first trimester;
You used disulfiram in the last 2 weeks;
You are using alcohol or propylene glycol products.
Use of metronidazole injection is contraindicated for pregnant women in their first trimester due to the risk of congenital anomalies. As metronidazole injection crosses the placenta and is detected in breast milk, consult your doctor before administering metronidazole in pregnant or nursing mothers.
Refer to your doctor or pharmacist for guidelines on dosage. Do not exceed what they advise. Usual dose for adults is: 500 – 1,000mg IV every 6 hours for 7 to 10 days. Usual for children is: 22.5 to 40mg/kg/day IV divided every 8 hours. The drug is given through intravenous fluid that will drip through a needle or catheter placed into the vein. For full therapeutic effect, metronidazole injection needs to be injected regularly on a fixed dose and schedule.
This medication may cause seizures, meningitis, or vision problems. Regular tests will be done by your doctor to check the effects of the medication. You should not use any alcohol or propylene glycol products during and three days after treatment. Due to possible interactions, inform your doctor if you are using busulfan, cimetidine, lithium, phenobarbital, phenytoin, steroid, or blood thinners. Consult with your doctor about any medications you are taking or medical conditions you have before your treatment with metronidazole injection.
Interested in more Products?
AdvaCare also offers different forms for Metronidazole, discover few of them here below: