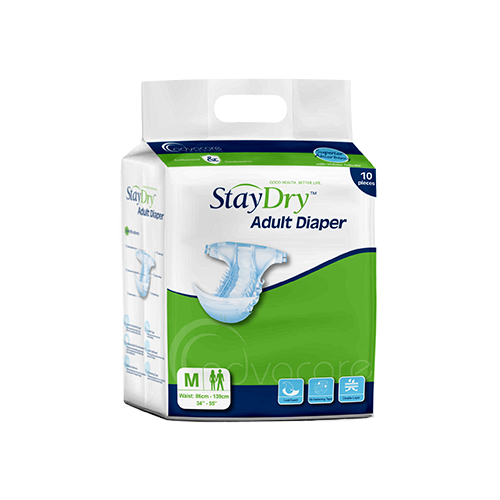 Loading…
(choose the specifications you require below)
Type:
EconoDry (Low Absorbency) (ATD-01);XtraDry (Moderate Absorbency) (ATD-02);XtraDry Pull-Ups (Moderate Absorbency) (ATD-03);XtraDry Ultra (High Absorbency) (ATD-04);XtraDry Ultra Pull-Ups (High Absorbency) (ATD-05)
Size:
M (Normal: 73-113cm; Pull-ups: 65-100cm);L (Normal: 86-139cml; Pull-ups: 80-120cm);XL (Normal: 94-150cm; Pull-ups: 90-120cm);XXL (Pull-ups: 100-145cm)
AdvaCare is a CE, ISO and USFDA manufacturer of Adult Diapers.
Adult diapers are designed to control excrement leakage in adult patients suffering from conditions such as incontinence (both fecal and urinary), severe bouts of gastroenteritis, advanced forms of Alzheimer's
and individuals whose mobility is reduced and cannot reach a bathroom in time to relieve themselves.
Fundamental feature of adult diapers is its absorbency, and how it blots urine wetness to keep the skin as dry as possible. Contact between skin and moisture for prolonged periods of time can be uncomfortable and lead to rash development. The absorbency factor of adult diapers also assists in neutralizing the pH and ensuring the skin is not exposed to a detrimental pH caused by the excreted product.
The elastic lining the waist and leg apertures of the diaper securely hold it in position whilst fitting comfortably and being gentle on the skin. A diaper that is too tight restricts movement and decreases comfort.
Our StayDry range of adult diapers consist in 2 styles, standard and pull ups. The main distinction between the two is the 360 elastic waist present in the pull up diapers. This thicker, elastic waist provides a higher level of security and decreases the chance of the diaper becoming dislodged. It also protects a larger area than the standard diaper. StayDry Pull-Ups variant of diapers fall into the XtraSafe range, and are equipped with double elasticized leg cuffs. The UltraDry model has a higher level of absorbance than the standard XtraDry Pull-Up.
Each diaper is designed to fit discreetly and easily underneath clothing, and offer breathability for wearers comfort. It is important to remind wearers of adult diapers that wearing this product does not strip the wearer of their dignity. Incontinence is an extremely common and normal part of aging, and should not be a source of shame or embarrassment. AdvaCare adult diapers are designed to be effective at controlling leakage as well as comfortable and well-fitting to cater to the concerns and requirements of all customers.
EconoDry Adult Diaper
This diaper is the most basic model of the range.
Double re-adhesive fastening tape;
Side protection offered;
Most inexpensive, economical diaper;
Low absorbency relative to the other diapers in the range. Diaper is ideal for patients who only suffer from mild, infrequent incontinence.
XtraDry Adult Diaper
This set of diapers offers enhanced absorbency in comparison to the EconoDry model.
This variant is composed of the XtraDry model and the XtraDry Ultra model;
Equipped with a wetness indicator;
Differences between the two are the Ultra model offers more absorbance (the highest across the entire range of adult diapers) and is composed of a more breathable material resembling cotton.
XtraDry Pull-Ups Adult Diapers
This set of diapers are still within the XtraDry range, however they differ in their structural design.
This variant is composed of the XtraDry Pull-Ups and the XtraDry Ultra Pull-Ups model;
Equipped with a 360 o elastic weight, for maximum support and security;
Bottom layer is made from a breathable material, resembling cotton;
Equipped with double elastic leg cuffs.
Interested in more Products?
For more Incontinence & Urology products, you can also check the following related products:
Benefits of Adult Diapers
Adult diapers are available in a variety of materials, each one catering to the different desires of the wearer, e.g. if more breathability is desired, the diaper with the bottom layer made from a cloth-like material should be chosen;
Relatively inexpensive, safe to use;
Protects the wearer from leakage and reduces skin exposure to excrement. High level of absorption;
Easily disposed, low risk of transferring contaminants and human by-products since they are single use;
Adult diapers come in multiple sizes. There is a size for everybody;
Elasticized waist and leg apertures provide a supportive and comfortable fit;
Diapers offer side protection;
In humid, warm climates that foster excessive sweating, baby powder can be applied with the diaper to keep skin dry and therefore reduce the risk of developing a sweat rash;
Discreetly and comfortably fits underneath clothes.
Correct size of the diaper must be worn by the user, as diapers that are too tight may rip when the wearer moves and hence compromising the diapers structural integrity and effectiveness. Diapers that are too big will result in excreted products not being absorbed properly, exposing them to the skin.
To correctly put the diaper on, the wearer must fold it – this involves folding the diaper length ways, taking care not to touch the inside. Hands may carry contaminants, and it is important that they are not transferred to the inner surface of the diaper. The diaper is placed front to back. Central portion is placed between the wearers legs. Once the diaper is fitted into place, slight adjustments may need to be made to ensure it is fitted correctly. If the wearer is prone to excessive sweating, a small amount of baby powder may be dusted around the thigh area to ensure skin stays dry and chafing is prevented. Chafing can cause an uncomfortable rash when the two moist surfaces constantly rub against each other. When the diaper feels comfortable and secure, tape it into place using the adhesive tape located at the front of the waistband and sides. Some final adjustments may need to be made around the edges. When the diaper feels comfortable and secured into place, the diaper is correctly worn.
It is imperative that the diapers are not used if the packaging or seal is compromised. Evidence of this may suggest tampering or contamination. If one should come across diapers inside comprised packaging, the correct course of action is to dispose of it quickly and safely.
It is of utmost importance that diapers are not reused. Once used, the device is not fit to be salvaged for further used, as it is soiled and contaminated with excrement. Reusing diapers can result in infections and hazardous material being transmitted;
Must prepare the diapers for use in a clean, sterile environment, absent of bodily fluids or other sources of contamination;
Care should be taken to not touch the inner surface of the diaper when putting it on – hands may carry contaminants and could be transferred to the diaper;
Promptly and safely dispose of any diapers that have touched a potentially contaminated surface;
Correct material must be selected according to the wearers preference – individuals who require breathable material to avoid heat rash for example should opt for the diapers not made from polyethylene;
Care must be taken when selecting the correct diaper size – A comfortable, correct fit is imperative for the wearer to get the most use out of the diaper to manage their condition;
If the individuals condition involves frequent incontinence or limited mobility, a high absorbent diaper should be worn, such as one from the XtraDry range. The EconoDry model may not be fit for use if the wearers condition is too severe.
Adult diapers are manufactured using a variety of materials. The materials used in the range offered by AdvaCare are high quality fibers such as polyethylene and breathable cloth-like material.