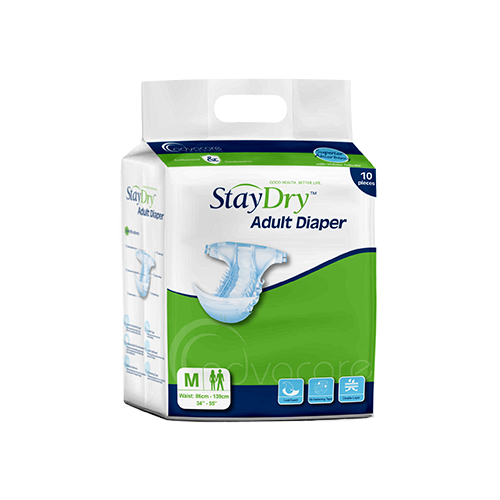 Loading…
(choose the specifications you require below)
Type:
EconoDry (Low Absorbency) (ATD-01);XtraDry (Moderate Absorbency) (ATD-02);XtraDry Pull-Ups (Moderate Absorbency) (ATD-03);XtraDry Ultra (High Absorbency) (ATD-04);XtraDry Ultra Pull-Ups (High Absorbency) (ATD-05)
Size:
M (Normal: 73-113cm; Pull-ups: 65-100cm);L (Normal: 86-139cml; Pull-ups: 80-120cm);XL (Normal: 94-150cm; Pull-ups: 90-120cm);XXL (Pull-ups: 100-145cm)
AdvaCare is a CE, ISO and USFDA manufacturer of Adult Diapers.
Adult Diapers are manufactured and used to provide leakage control to support patients with various conditions such as urinary or fecal incontinence, dementia, severe diarrhea, and mobility impairment.
Our diapers effectively wick wetness from the skin within seconds while also neutralizing the pH so that the skin is not exposed to an unhealthy pH of the waste.
For convenient removal, the waistband has a frontal adhesive tape and side tape that can be quickly and easily torn away. The elastic around the waist and leg openings allows the diaper to be held gently but securely without any binding and provides maximum leakage.
Manufactured with high-quality fibers and breathable polyethylene film, our products guarantee high absorbency standards. The cloth-like material fits easily under clothing and allows for breathable zones.
With a wetness indicator to show when the diaper is soiled in addition to these comfortable and convenient factors, AdvaCare adult diapers have a far superior design and protection and are widely used for urine and fecal collection in hospitals, nursing homes and for personal care.
AdvaCare is an ISO, CE and USFDA certified adult diaper supplier.