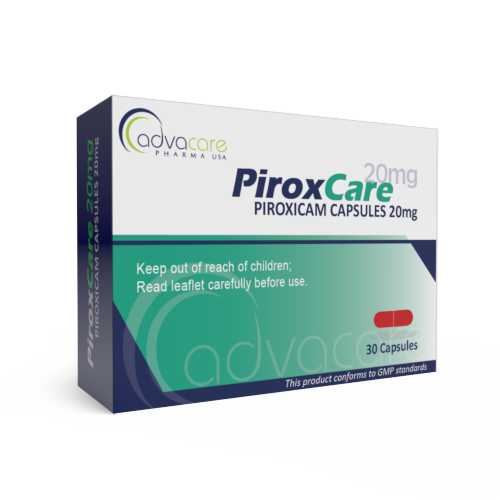 Loading…
(choose the specifications you require below)
Packaging:
10 capsules/blister, 1 blister/box;10 capsules/blister, 10 blisters/box;1,000 capsules/bottle
Therapy:
Analgesic, Anti-pyretic, Non-steroidal Anti-inflammatory Drug (NSAID)
Active Ingredients:
Piroxicam
General Information:
AdvaCare is a GMP manufacturer of Piroxicam capsules.
Piroxicam capsules are a non-steroidal anti-inflammatory drug of the oxicam class possessing both analgesic and antipyretic properties. It works by reducing hormones that cause inflammation and pain in the body and it is used to relieve the symptoms of rheumatoid arthritis and osteoarthritis, primary dysmenorrhoea, ankylosing spondylitis, or postoperative pain.
Piroxicam is also used in veterinary medicine to treat certain neoplasias expressing cyclooxygenases (COX) receptors, such as bladder, colon, and prostate cancers.
Side Effects:
As with all pharmaceuticals, piroxicam capsules may have some side effects. Common side effects include: sneezing, runny or stuffy nose, wheezing or problems to breath, hives, face, lips, tong or throat swelling. In case you have signs of heart attack or stroke such as chest pain spreading throughout your shoulder or jaw, sudden weakness on a side of your body, breath shortness or slurred speech, call your doctor immediately.
Stop using piroxicam capsules and call your doctor at once if you have symptoms such as: serious skin reactions such as fever, sore throat, swelling in your face or throat, burning in your eyes, skin pain followed by rash spreading usually on the upper body, blistering and peeling; anemia, kidney, liver or stomach problems, sudden weight gain, shortness in your breath and changes in your vision.
Itching, rash, ears ringing, dizziness, headache, gas, diarrhea, constipation, heartburn, loss of appetite, nausea, vomiting urine problems are also possible side effects.
For a comprehensive list of all possible effects, consult your doctor.
If any symptom persists or gets worse, or you notice any other symptom, then please call your doctor immediately.
Always consult your doctor or pharmacist before taking piroxicam capsules. In particular, talk to your health care providers in case of allergic reactions.
If you are taking other medicines, or you think you may need to use an alternative form of piroxicam capsules, always remember to ask your doctor's opinion first. In these cases it's useful to keep with you a list of all the drugs you are taking. Talk to him before starting any new cure as well, vitamins and natural products included.
If your condition does not improve or becomes worse, then call your health care providers.
Driving or operating machinery should be avoided, as it may cause dizziness.
Indications and Usage
Take this medicine exactly as suggested by your doctor or health care specialist. They may have to change the dosage during the therapy to make sure it's effective. Never use this medicine in a higher dose or for a longer period of time than you have been told by your doctor.
It may take about 2 weeks before you start feeling better. Keep using this medicine until the prescribed time is done and continue the treatment as suggested by your doctor for a longer time if necessary.
Administration and Dosage
20 mg once a day up to two weeks is the recommended dosage. Note that your doctor should prescribe you the lowest dosage possible for the shortest duration, depending on your conditions.
Piroxicam is taken orally with a whole cup of water.
Interactions
Before taking any cold, allergy or pain medicine, ask your doctor for a consultation, as a lot of medications contain aspirin or other drugs similar to piroxicam. Always remember to check if the other medicines you may have to take contain aspirin, ibuprofen, ketoprofen or naproxen.
Avoid drinking alcohol if you are taking piroxicam, since it can increase the risk of stomach bleeding.
If you are taking steroid medicines, hearth or blood pressure medications, blood thinners, methotrexate or lithium, remember always to ask your doctor first if you can combine these drugs with piroxicam.
Overdose
If you take a larger dose than you should take, tell your doctor, pharmacist or health care specialist immediately even if you don't feel bad. Bring with you the container and tell them about the amount you took and related timing.
Nausea, vomit, stomach pain, bloody or dark stools, coughing blood may be symptoms of overdose. Seek emergency medical help if you have doubts.
Adverse Reactions and Precautions
If you have had allergic reactions to aspirin or to an NSAID, or if you have ever had an asthma, then you do not have to take piroxicam.
This drug may increase the risk of deadly heart attacks or strokes, specifically if you use high dosages or if you take it for a long period of time. If you have heart problems you will surely be a subject more at risk, but also people who have never had heart problems before could be at risk taking this drug. Do not take this medicine before or after heart bypass surgery. This medication can also cause fatal conditions as stomach or intestinal bleeding, especially in old people.
An important precaution you have to take, is telling your doctor if you have an heart disease, high blood pressure or cholesterol, diabetes, blood clot, stomach ulcers or bleeding, liver or kidney problems, fluid retention or if you simply smoke.
Note that taking piroxicam during the last 3 months of pregnancy can hurt the baby. Also if you are trying to get pregnant, you should be careful while taking this drug, as it may delay your ovulation. If you are breast-feeding, you should avoid taking piroxicam as well.
This medicine shouldn't be prescribed to anyone younger than 18 years old.
Interested in more Products?
For more non–steroidal anti–inflammatory drugs, you can also check the following related products: