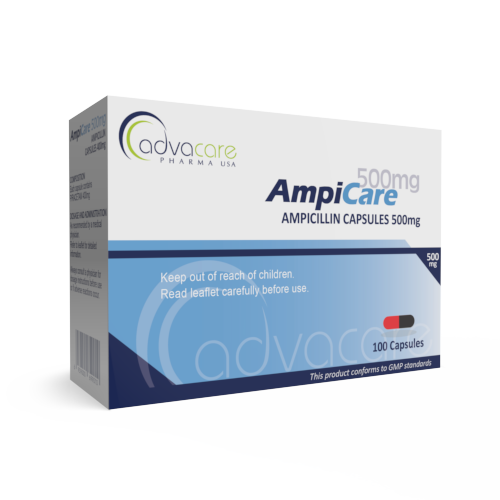 Loading…
(choose the specifications you require below)
Packaging:
10 capsules/blister, 1 blister/box;10 capsules/blister, 2 blisters/box;10 capsules/blister, 10 blisters/box;1,000 capsules/bottle
Active Ingredients:
Ampicillin trihydrate
General Information:
AdvaCare is a GMP manufacturer of Ampicillin capsules.
Ampicillin capsules are an antibiotic used to prevent and treat a number of bacterial infections, such as respiratory tract infections, urinary tract infections, meningitis, salmonellosis, and endocarditis. It may also be used to prevent group B streptococcal infection in newborns. Capsules are administered orally (by mouth), but ampicillin can also be injected via I.M. (intramuscular) or I.V. (intravenous) in powder for injection form.
Like all antibiotics, ampicillin is not useful for the treatment of viral infections. Ampicillin works by interfering with the formation of bacteria's cell wall while it is growing.
Side Effects:
As with all pharmaceuticals, some unwanted ampicillin side effects can occur. Always consult a doctor or health care professional for medical advice before use.
Common side effects include, but may not be limited to skin rash, diarrhea or nausea. Seek medical attention if the following develop: an allergic reaction.
For a comprehensive list of all possible effects, consult your doctor.
If any symptom persists or gets worse, or you notice any other symptom, then please call your doctor immediately.
Always consult your doctor or pharmacist before taking ampicillin.
If your condition does not improve or becomes worse, then call your doctor.
Driving or operating machinery is okay as it does not impair motor functions.
Do NOT use ampicillin if:
You allergic to ampicillin or other penicillin antibiotics;
You are taking antibiotics;
You have mononucleosis;
You have been recently given or getting a vaccine;
Use of ampicillin during pregnancy should not be taking as it may increase the chance of miscarriage and breast feeding while taking ampicillin can cause sensitization. Consult your doctor or health care professional before taking ampicillin.
Refer to your doctor or pharmacist for guidelines on dosage. Do not exceed what they advise. Usual dose for adults is: 250mg to 500mg. Usual does for children 1 month and older for mild to moderate infections is 12.5mg to 25mg.
Possible Interactions with ampicillin is methotrexate. Consult with your doctor about any medications you are taking, before your treatment with ampicillin.
Interested in more Products?
For more antibiotics, you can also check the following related products: