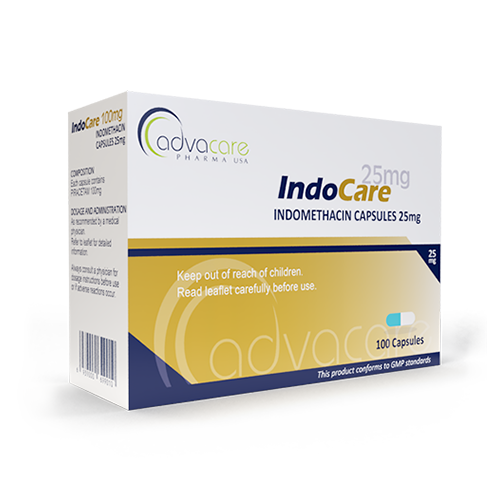 Loading…
(choose the specifications you require below)
Packaging:
10 capsules/blister, 1 blister/box;10 capsules/blister, 10 blisters/box;1,000 capsules/bottle
Therapy:
Nonsteroidal Anti-inflammatory (NSAID)
Active Ingredients:
Indomethacin
General Information:
AdvaCare is a GMP manufacturer of Indomethacin capsules.
Indomethacin capsules are a group of drugs called nonsteroidal anti-inflammatory drugs (NSAIDs) that works by reducing hormones that cause inflammation and pain in the body. Indomethacin is effective in reducing hormones that cause pain, inflammation, and stiffness caused by many conditions such as osteoarthritis, rheumatoid arthritis, gout, ankylosing spondylitis, tendinitis, and bursitis.
Indomethacin is an antipyretic and an analgesic drug.
Side Effects:
As with all pharmaceuticals, some unwanted indomethacin side effects can occur. Always consult a doctor or health care professional for medical advice before use. Specifically, tell your doctor if you get any of the following side effects.
Common indomethacin side effects include, but may not be limited to: rash, hives, itching, redness, blistering, skin peeling, fever, wheezing, tightness in chest or throat, problems to breath, swallow or talk, hoarseness, swelling of tongue, throat or face. You may also get more serious symptoms such as: throwing up or coughing blood, having blood in urine, stools, gums, unusual vaginal bleeding, increased size of bruises. Indomethacin side effects also include: accelerated heartbeat, sense of confusion, weakness, dizziness, numbness or shortness of breath, bad headache, passing out, sight problems, sudden weight gain, swelling in arms or legs, chest pain or pressure, trouble speaking or keep balanced, one side of the face drop, ringing of ears, mood changes, bad back pain.
Indomethacin capsules can also cause Stevens-Johnson syndrome, a bad skin reaction that can cause health problems which may be irrecoverable. Call your doctor or go to the hospital at once if you have symptoms like redness, swollen, blistering or skin peeling, red or irritated eyes, mouth, throat or nose pain.
Always consult your doctor or pharmacist before taking indomethacin capsules. In particular, talk to your healthcare providers in case of allergic reactions.
If you are taking other medicines, or you think you may need to use an alternative form of indomethacin capsules, always remember to ask your doctor's opinion first. In these cases it's useful to keep with you a list of all the drugs you are taking. Talk to him before starting any new cure as well, vitamins and natural products included.
If your condition does not improve or becomes worse, then call your healthcare providers. Never use this medicine for a longer period of time than you have been told by your doctor.
Driving or operating machinery is okay as it should not impair motor functions.
Indications and Usage
Take indomethacin capsules as indicated by your doctor, pharmacist or healthcare specialist. Take it with food to prevent the risk of getting a stomachache. Indomethacin is taken orally with an entire cup of water.
Administration and Dosage
The dose will be decided depending on your age, condition, response to the treatment, weight or other medical conditions you have. The dosage may also depend on the problem you are going to treat. If you miss a dose, take it as soon as you remember about it. If it's very close to the time of your next dose, skip the missed one. Do not take two doses at the same time and do not overdose it. If you do, call your doctor and tell him about the overdose and related timing.
Interactions
Before taking indomethacin capsules always ask your doctor for a consultation first. Specifically tell him if you are allergic to indomethacin or other parts of this medicine, if you have an allergy to NSAIDs, aspirin or any food or other substance. Also talk to your doctor if you have kidney or gastrointestinal problems, if you are having problems getting pregnant, if you are pregnant or you suspect you may be: you should not take this medication if you are in third trimester of pregnancy or any way you may not be able to take it during the entire duration of pregnancy. You should not mix indomethacin with diflunisal, triamterene or pemetrexed as well.
Since this list does not include all the medicines or health problems that interact with indomethacin capsules, always remember to give your doctor a detailed description of your conditions.
Overdose
If you take a larger dose than you should take, tell your doctor, pharmacist or healthcare specialist promptly even if you don't feel bad. Bring with you the container and tell them about the amount you took and related timing.
Adverse Reactions and Precautions
To be safe, avoid driving or doing other things that require you to be really focused till you know how indomethacin affects you. Use soft toothbrushes and avoid using razors, as this medication may cause you to bleed more easily. If you smoke or you want to drink alcohol, say it to your doctor before.
Inform the lab workers that you take indomethacin before doing tests and check your blood in case you may have to take this medication for a long period of time. Notice that you may be more sensitive to indomethacin if you have asthma, so let your doctor know it.
Check your blood if your doctor or healthcare specialist says so, since this medicine can cause high blood pressure. Indomethacin can actually increase the chance of heart failure. If you have this condition, this drug may increase the risk of heart attack and death, especially if you have had a heart attack in the past. If you are older than 65, ask your doctor before taking this drug. Indomethacin can also cause liver problems. Call your doctor promptly if you notice symptoms such as dark urine, tiredness, loss of appetite, stomachache or vomit, light-colored stools or yellow eyes and skin.
Medicine like indomethacin can affect ovulation in women, which can cause you to not be able to get pregnant. If you are pregnant, plan to be or you are breast-feeding, ask your doctor for a consultation before starting the therapy. He has to tell you if the benefits overweigh the risks for you or your baby.
Interested in more Products?
AdvaCare also offers different forms for Indomethacin, discover few of them here below: