(choose the specifications you require below)
Type:
Oropharyngeal Specimen Collection;Nasopharyngeal Specimen Collection
UTM Preservation Medium:
Type A: NaCI, MgSO4.7H2O, KCI, MgCI2.6H2O, CaCI2, Na2HPO4.12H2O, KH2PO4, glucose, Phenol red solutionType B: Sodium Chloride, EDTA-K2, Guanidine Thiocyanate, 8-hydroxyquinoline
Packaging:
1 samples storage tube (16x100mm, PP) + 1 Swab + Biohazard Bag/blister pack, 25 blister packs/box;1 samples storage tube (13x84mm, PP) + 1 Swab + Biohazard Bag/blister pack, 25 blister packs/box
AdvaCare is a CE, ISO and USFDA manufacturer of PCR Virus Transportation System.
Adapted to collection and transportation for Novel Coronavirus (COVID-19/SARS-CoV-2) virus of flu, Bird Flu, Hand/foot/mouth disease, measles and many more, AccuQuik™ PCR Virus Transportation System is a disposable and safe system for collection and transportation of viruses into preservation medium.
The system is composed of a flocked swab, a virus preservation medium, a double glass collection tube, and a biohazard bag for transportation in complete safety.
AdvaCare Virus Transportation Kit are designed for a faster and complete release of samples and easy operation for both collection and transportation of the specimen from the individual to the laboratory for analysis.
Sample collection tube are made of transparent, static and shock proof, Medical-Grade Polypropylene (PP), with high resistance to high temperatures (can resist at 121°C for 15 minutes), and low temperature (-196°C). Bottom of the tube has a tapering which allows the tube to bear centrifugation and shaking.
Preservation medium is UTM Standard ideal for most applicable virus storage. Into the sample storage liquid, two glass beads are insert in order to better elution and make more microorganisms release to the preservation medium.
Each 15cm swab is made of ABS sticks with flocked nylon adhered on a detachable tip. They come in two different specifications for two different usages: one more suitable for nasopharyngeal specimen collection (made of a straight minitip), and a second one mostly used for oropharyngeal specimen collection (with a rounded tip).
SPECIMEN COLLECTION METHOD
Step 1: Unpacking of the product
Peel the blister pack;
Organize all content of blister pack near to you to ease the sampling operation;
Peel the swab pack and begin the sampling procedure.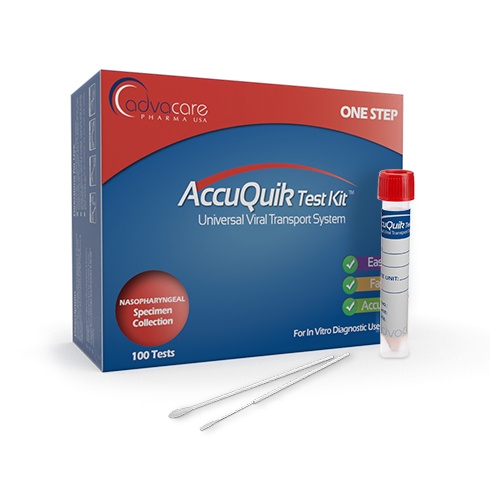 Step 2: Perform Sampling
For Nasopharyngeal Route: 1) Insert the swab into nostril, 2) reach the nasopalatine duct gently, 3) allow swab to stay for a while and slowly rotate while exit;
For Oropharyngeal Route: 1) Insert the swab into pharyngeal tonsils and the posterior pharyngeal wall, 2) swab designed area thoroughly, 3) slowly remove swab.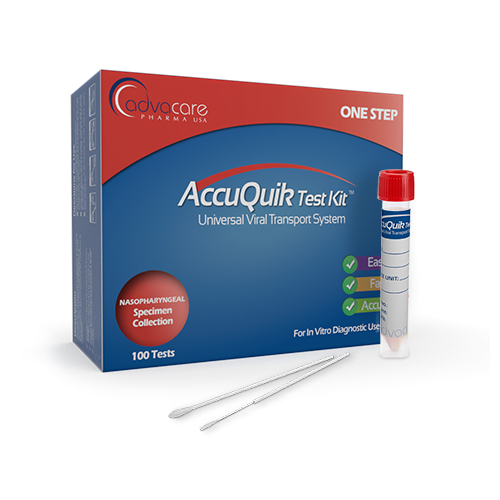 Step 3: Collecting Specimen Swab
Open transportation tube and hold steady tube sealing cap between little finger and hand palm;
Immerse the swab in the tube containing sampling solution;
Stir quickly swab into sampling solution (with the help of the glass beads) then discard tail of swab.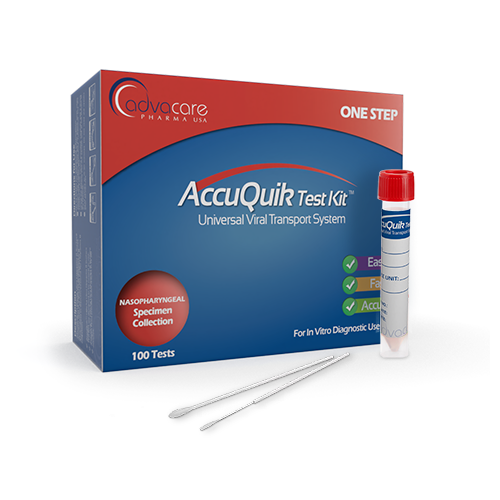 Step 4: Sealing for Transportation
Quickly tighten tube cap to avoid contamination;
Make sure to prevent leaking on the outer side wall of the PP transportation tube;
Put the tube into biohazard bag for safe transportation.
Important Notice for Distributors
We, at AdvaCare, have been working around the clock to address this global pandemic, with a special focus on the early detection of COVID-19, to expedite development of our revolutionary testing solution. We stand on the front lines in the fight against novel coronavirus (COVID-19)!
As AdvaCare production lines are running at full capacity to meet demand, delivery times are according to when orders are placed.
Contact us today to Receive Prices, Specifications and Shipment Schedule.
Interested in more Products?
Discover more products we already distribute in more than 65 countries worldwide you can consider to distribute to contain COVID-19 outbreak: