(choose the specifications you require below)
Type:
Single-Head Chestpiece, w/Standard Binaural Spring;Double-Head Chestpiece, w/Standard Binaural Spring;Double-Head Chestpiece, w/Inner Binaural Spring
Packaging:
1 piece/PE bag, 1 PE bag/box
AdvaCare is a CE, ISO and USFDA manufacturer of Stethoscopes.
The AccuQuick™ brand of Stethoscopes, manufactured in multiple configurations, is internationally distributed and recognized for reliable quality and exceptional value. With distribution across developed and developing markets alike, our products are uniquely positioned as the brand of choice for medical professionals.
AdvaCare's AccuQuik Stethoscope is specially designed with updated styling that ensures maximum comfort and auscultation capabilities cardiologists have come to rely on. Equipped with a high-quality stainless steel head, our stethoscope transmits critically important high-frequency heart sounds like clicks, murmurs, and ejection sounds crisply and clearly. To avoid interference from side noises, special attention has been paid to the design of the binaural and the ear-tips to ensure minimum noise friction even when the stethoscope is moving.
AdvaCare's stethoscopes ensure the successful provision of excellent sound quality, durability, and comfort for any practicing professional looking for accurate auscultation of cardiac, pulmonary and vascular sounds. Our stethoscopes are manufactured by following strict GMP, ISO, CE and USFDA standards.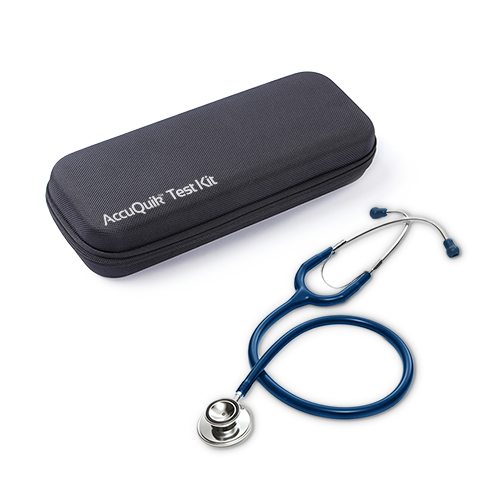 Single and Double Head Stethoscopes
AccuQuik™ Stethoscopes comes with a single-head or double-head features. Stethoscopes come with diaphragms and bells: while diaphragms are better for listening to high frequency sounds, bells are better in transmit lower frequencies.
Single-head stethoscopes have one-tunable diaphragm used for auscultation procedure;
Double-head stethoscope has a regular diaphragm on one side and a bell (or pediatric diaphragm) on the other side.
The stethoscope is a symbol of healthcare professionals. The AdvaCare's AccuQuik Stethoscope is made out of three parts:
1) A headpiece that contains tubes and ear tips
The headset has hollow ear tubes that are called binaural tubes. They are made of anodized aluminum and are silver-colored. Ear tube inner diameter is 0.5 cm and the outer diameter is 1 cm. Make sure the earpiece tension is tight enough for listening.
2) Tubing that connects the headpiece and chest piece
The hollowing tubing is the longest part and can be also called the acoustic tube. It is made of polyvinyl chloride (PVC) that is 50.8 cm long and has an inner diameter of 1 cm and an outer diameter of 1.5 cm. The top part with the U shape contains a tension spring to modify fit and hold ear tubes together that merge into an ear tube together.
3) The chest piece that includes a stem and diaphragm
The chest piece connects the tunable diaphragm to the tube. This is made of anodized aluminum and is silver-colored. The flat side is the one that transmits sounds. The flat side diameter is 4.5 cm and used for high-frequency sounds and the bell side is 3.2 cm that is used for low-frequency sounds. When listening, the diaphragm vibrates and transmits air to the tubes that produce sound in your ears. Both sides have border covers that have rubber that keep the cold metal from patients for comfort. The chest piece should be of appropriate size when used.
Use the stethoscope in a silent environment.
Interested in more Products?
For more diagnostic detection instruments, you can also check the following related products:
Soft eartips ensure a perfect seal at the ear canal and enhances the wearerers comfort;
Headset has automatic correct angle to assure proper fit;
Adjustable binaural spring tension allows for maximum comfort.
Firstly, ensure the ear tips are firmly fastened onto the binaural. To do this, simply screw them onto the binaural. Then carefully insert the binaural into your ears, and if deemed necessary, feel free to adjust the binaural for a more comfortable fit. However, note to not adjust the binaural while it is still inserted in the ears. To do so remove it from the ears first. To ensure the stethoscope is working properly, gently tap your finger on one of the diaphragms. To know that all is in order, you should be able to hear the tapping of the diaphragms.
Stethoscope should be properly cleaned and disinfected after use;
Avoid exposing the stethoscope to extreme heat, cold, direct sunlight, solvents or oils;
If complete sterilization is required, employ gas sterilization only. Do not immerse the stethoscope in any liquid or subject it to sterilization by steaming.