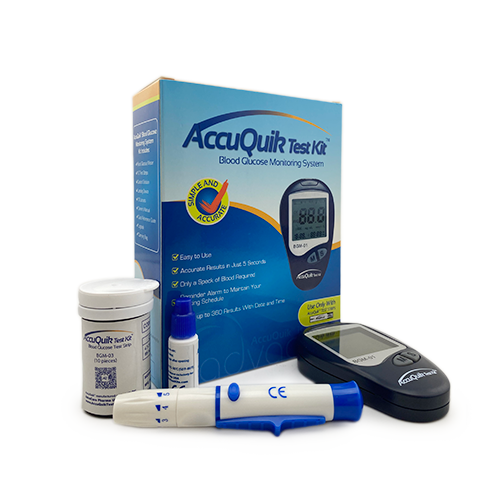 Loading…
(choose the specifications you require below)
Type:
Standard Monitor and Kit (BGM-01);Compact Monitor and Kit (BGM-02);Test Strips (BGM-03)
Test Strips:
25 pieces/bottle;50 pieces/bottle
Packaging:
1 device, 1 manual, 1 lancet pen, 25 test strips/kit
AdvaCare is a CE, ISO and USFDA manufacturer of Blood Glucose Monitors.
Blood glucose monitors or glucometers are an important device to determine the approximate level of glucose in the blood. A small drop of blood, obtained by pricking the skin with a lancet, is placed on a disposable test strip that the meter reads and uses to calculate the blood glucose level. The meter then displays the level in units of mg/dl or mmol/l.
AccuQuik Blood glucose monitors are available as a kit, with all the components required for an accurate reading of the glucose level in your blood. Glucometers enable one to manage their own diabetes Through SMBG (Self-Monitoring of Blood Glucose) therefore; most people monitor their glucose level every morning before breakfast, before lunch, dinner, and right before they go to sleep.
A Blood glucose monitor tests the glucose in the blood and is generally used by diabetics to help regulate their blood sugar levels. Diabetic individuals around the world on an average use the monitor 3 times/day for type 1 diabetes and for type 2 diabetes from anywhere between 2 times/day. The monitor determines blood glucose patterns and helps the individuals to manage their lifestyle activities (Diet & Exercise).