(choose the specifications you require below)
Size:
29G x 13mm;30G x 8mm;31G x 8mm;31G x 6mm;31G x 5mm;31G x 4mm;32G x 44mm
Packaging:
1 piece/blister pack, 100 packs/box
AdvaCare is a CE, ISO and USFDA manufacturer of Insulin Pen Needles.
The AccuPoint™ brand of Insulin Pen Needles, available in a range of different capacities, is internationally distributed and recognized for reliable quality and exceptional value. With distribution across developed and developing markets alike, our products are uniquely positioned as the brand of choice for medical professionals.
AdvaCare's Insulin pen needles are manufactured to offer a reliable solution for insulin injection. They are specifically designed to allow for self-administration of insulin and are compatible with most insulin pens. Our insulin pen needles are manufactured with medical grade materials including steel and polypropylene. They are sterile, non-toxic and non-pyrogenic medical equipment that features a patient point with triple beveling for easy and atraumatic injections.
AdvaCare insulin pen needles are manufactured using high-quality materials and are available in different sizes. Our factories are GMP, ISO, CE and USFDA approved.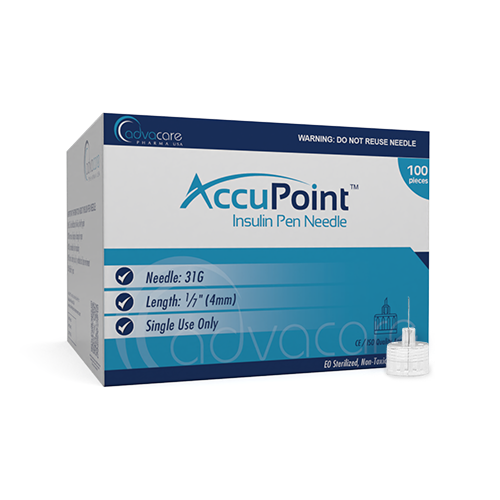 PRODUCT SERIES:
Each AccuPoint™ Insulin Pen Needle has an outer shield closed with a peel tab which indicates the specification of the needle. Into each the outer shield:
Pen Needle with universal compatibility attachment to insulin pen;
Inner shield to reduce injuries.
Interested in more Products?
For more injection instruments, you can also check the following related products:
BENEFITS OF INSULIN PEN NEEDLES
Shorter injection needles reduce the risk of a painful injection into the muscle;
Equipped with a sharpened cartridge point for a perfect fragmentation-free injection;
Allows for convenient and easy flow of medication without any impurities;
Specially designed for universal fit, so will fit most dosers and pens sold in the market.
Take a new needle and tear off the paper tab.

Push the needle straight onto the pen. Keep turning until it is on tight.

Slowly and carefully pull off the outer needle cap and keep it for later use, as you will need it after the injection procedure to safely remove the used needle from the pen.
Carefully pull off the inner needle cap and dispose of it accordingly, so to prevent you from stabbing yourself with the needle when attempting to put it back on.
Note that if you are taking insulin, you have to always inspect the flow before you begin to inject so as to ensure you get your full dose of insulin.
Always use a new needle. The needles are sterile and are intended for single use only. Reusing the needle could damage the needle tip and its protective coating, resulting in blockage or increase the risk of needle breakage;
Used needles should be carefully disposed of after use so as to reduce the risk of injury to others.