(choose the specifications you require below)
Capacity:
0.3ml (ISG-01);0.5ml (ISG-02);1ml (ISG-03)
AdvaCare is a CE, ISO and USFDA manufacturer and global supplier of Insulin Syringes. The AccuPoint™ brand of Insulin Syringes, available in a range of different capacities, are internationally distributed and recognized for reliable quality and exceptional value. With distribution across developed and developing markets alike, our products are uniquely positioned as the brand of choice for medical professionals.
Insulin syringes are manufactured to offer a reliable solution for insulin injection; they are specifically designed for self-injection.
AdvaCare insulin syringes are manufactured with high-quality materials including medical-grade polypropylene for the barrel and plunger and a perfectly fitted rubber plunger tip/piston for a reliable seal (medical grade silicone oil lubricant).
They are sterile, non-toxic, and non-pyrogenic. Their short needles fit the needs of subcutaneous insulin injections and they also have finer gauges to reduce the pain of injection.
The ink marks on the barrel of the syringe help patients get a precise measurement of their dosages. AccuPoint™ insulin syringes are manufactured in three different capacities depending on the insulin dosage, and all ISO, CE and USFDA approved.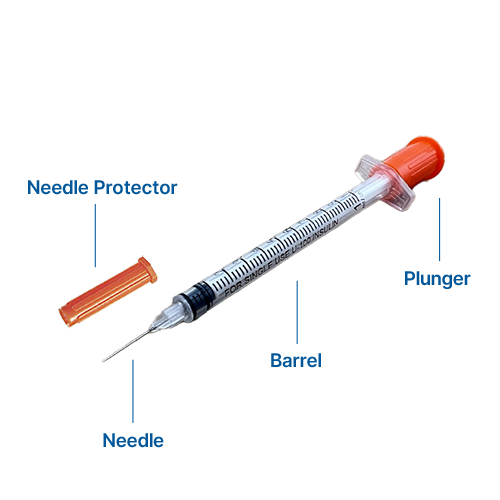 INSULIN SYRINGES PARTS
An insulin syringe is made of three parts, which consist of a needle, a barrel and a plunger.
Needles are usually short and thin. It is covered by a fine layer of silicone in order to allow it to pass through the skin easily and make it less painful. A needle protector covers needle in order to keep it in perfect conditions before using it.
Barrel is the long and thin part that houses the plunger and the insulin solution. It is metered to measure the number of insulin units.
Plunger is a long and thin crossbar that moves smoothly inside the barrel. It slides up and down in order to draw the insulin into the barrel or push it out of the syringe through the needle to give the injection. The plunger presents a rubber seal at the bottom in order to make it leak free. The rubber plunger seal matches the lines on the barrel in order to correctly measure the amount of insulin.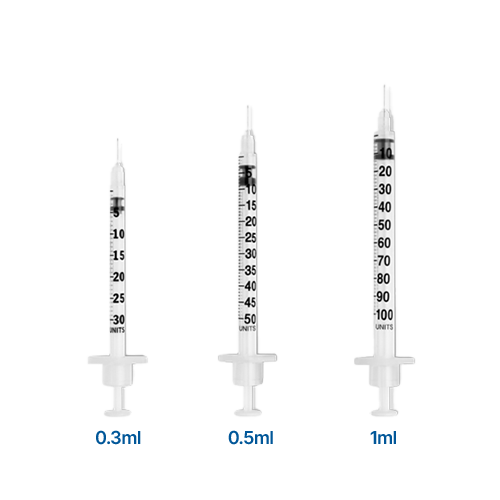 NEEDLE SIZES
Insulin syringes most common needle sizes are:
0.3ml: 31G x 5/16" and 29G x 1/2"
0.5ml: 30G x 5/16" and 29G x 1/2"
1.0ml: 30G x 5/16" and 29G x 1/2"
Interested in more Products?
For more syringes, you can also check the following related products:
Always ask your healthcare provider for consultation before use;
In order to properly prepare your dose of insulin, pull the syringe plunger down to draw air into the syringe (the quantity of air inside the syringe must be the same as the number of units of insulin that you need for the injection);
Inject the air into the insulin bottle and invert both the bottle and syringe;
Pull down the plunger again in order to draw insulin into the syringe and at the same time measure the correct number of units (remember to check if there is any bubble in the syringe: if you find any, remove it by tapping gently on the syringe);
Insulin can be injected into the buttocks, thighs, abdomen, and arms;
Always remember to clean the skin first by the injection site using an alcohol pad or rubbing alcohol;
Pinch the skin by the injection site using your finger (the pinch should pull at least 3 inches of skin);
Insert the needle at a 45 to 90 degree angle;
Inject the insulin and after that, withdraw the needle;
When you are done, press lightly on the skin;
Discard the used syringe and needle as suggested by your healthcare provider in a puncture-resistant, sealable household container as sterility of a reused syringe cannot be guaranteed;
Store the insulin syringes at room temperature away from heat and light.
Benefits of Insulin Syringes
Ideal for injecting solutions subcutaneously;
Well measured amount of insulin at each injection;
Cost efficient method for insulin administration;
Non-toxic, non-pyrogenic;
Latex-free, hypo-allergenic.
Do not forget to choose a different site for each injection (about 1 inch away from previous injection sites but in the same general area);
Use all possible sites in the same area before switching to a different area. Do not use the same injection site more often than once every month or two. If you have trouble seeing the small markings on the syringe, have someone help you. Also, let your doctor and pharmacist know about this problem. They can provide syringes that are easier to read, special tools to help you fill the syringe, or prefilled syringes;
Do not share your dose of insulin with others;
Do not use it for other health conditions;
Keep this drug out of the reach of children;
Do not reuse needles, syringes, or other materials;
Keep in mind that you risk getting an infection by reusing needles. The more you reuse a needle, the weaker it gets, which makes it:
Liable to bend or break off into the skin;
Become dull, which may can cause pain, bruising or bleeding during the injection.
All of these risks increase each time you reuse a needle, reason why needles should only be used once and correctly discarded after each injection.
Insulin syringes are made in several sizes. Use the smallest syringe size you can for the dose of insulin you need.
When you choose the size of a syringe, take into consideration the number of units you need to receive. You may need to keep this in mind:
A 0.3ml syringe is best for children as they often need very small doses of insulin, or for people with poor eyesight.
A 1ml syringe may be best for adults who need to take larger amounts of insulin.