(choose the specifications you require below)
Size:
18G (pink) (SNL-01);19G (beige) (SNL-02);20G (yellow) (SNL-03);21G (green) (SNL-04);22G (black) (SNL-05);23G (blue) (SNL-06);24G (purple) (SNL-07);25G (orange) (SNL-08);26G (brown) (SNL-09);27G (gray) (SNL-10)
AdvaCare is a CE, ISO and USFDA manufacturer and global supplier of spinal needles. The AccuPoint™ brand of spinal needles, available in a wide range of sizes, from 18G to 27G, with both pencil and quincke points, are internationally distributed and recognized for reliable quality and exceptional value. With distribution across developed and developing markets alike, our products are uniquely positioned as the brand of choice for medical professionals.
The primary function of a spinal needle is to administer fluids directly into the spinal cord of a patient. The needle is much more robust and larger than a regular needle used for most intravenous techniques, in order to stand up to the pressure of penetrating the thick spinal cord.
There are 2 types of spinal needle point bevel in the AccuPoint range: pencil spinal needles and quincke spinal needles.
The bevel of the pencil point needle is designed to mitigate damage to the dura mater and prevent high volumes of leakage of Cerebrospinal fluid (CSF). The pencil point needle has a tapered tip, which reduces damage to surrounding tissue. The eye of the pencil needle is located in close proximity to the distal tip, and assists in minimizing the risk of extra-dural injection attributed to the anesthetic used in standard practice when injecting a patient with a spinal needle. Lateral eye is smoothed, for ease of use.
Quincke needle is considered the standard needle for diagnostic lumbar puncture, and is equipped with a cutting tip. This type of needle is most frequently utilized by non-anesthetists for puncturing the spinal canal in order to diagnose diseases such as meningitis or other central nervous system diseases.
Hub of spinal needles is clear and has a magnifying effect, allowing for easy observation of cerebrospinal fluid backflow, as well as accurate positioning of the needle.
The cutting tip fitted to this needle variant is useful for accessing tough tissue, such as patients with denser skin.
Each spinal needle's gauge is color coded, to make them easily distinguishable at a glance.
The spinal needle range from AccuPoint are sharp to cleanly impact the skin and spinal cord, reducing risk of tissue trauma and subsequent infections that may develop.
Needles are fashioned from high-grade stainless steel which facilitates clean, painless puncturing of the spinal cord. Spinal needles are sterilized before packaging, allowing for use immediately after opening without the need for additional sterilization. The needles are designed with convenience in mind.
The AccuPoint ranges of spinal needles are designed with an emphasis on patient comfort, elucidated through the sleek, smooth surfaces of the needles to ensure every procedure is as painless and efficient as possible.
Our spinal needle product lines are GMP, ISO, CE and USFDA approved.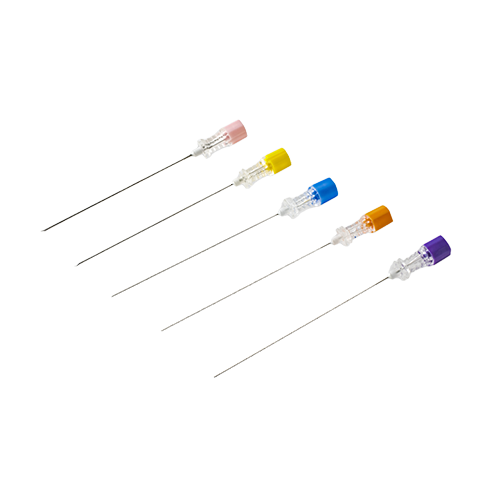 Pencil Point Needle
This variant of spinal needle is equipped with a tapered tip.
The specially designed bevel of the needle ensures minimal leakage of CSF;
Tapered point reduces damage to impacted tissue.
Quincke Needle
This variant is considered the standard needle for diagnostic lumbar puncture.
Fitted with a cutting tip;
Useful for diagnosing diseases afflicting the central nervous system, such as subarachnoid hemorrhage.
Interested in more Products?
For more needles and syringes, you can also check the following related products:
The patient is placed on their side (usually the left), and is directed to assume the fetal position, i.e. chin touching chest, back hunched over, and knees are bent toward the chest region. The skin located toward the lower back is aseptically treated, in order to protect against contamination from pathogenic microorganisms.
Once this preparatory phase is complete, local anesthetic is administered underneath the skin, and then injected along the needles projected path.
The needle is implanted in between the vertebrae (specifically the lumbar vertebrae) and is gently but firmly pressed further into the body until resistance is encountered, indicating that the lumbar cistern has been reached.
The needle is pressed further into the body again, until more resistance is encountered and notifies that the dura mater has been surpassed. At this point, the thinner arachnoid membrane is also contacted, and signifies that the needle is within the subarachnoid space. The stylet is withdrawn, and a small volume of cerebrospinal fluid is collected.
The procedure is completed by withdrawing the needle carefully, whilst applying moderate pressure to the site of impact. The positioned outlined above is optimal, as it does not alter the spine's shape into a position that makes it difficult to obtain a fluid sample.
It is imperative that the device is not used if the packaging or seal is compromised. Evidence of this may suggest tampering or loss of sterility. If one should come across a device within comprised packaging, the correct course of action is to dispose of it quickly and safely, to prevent infection.
Benefits of Spinal Needles
Sharp needles made from stainless steel to reduce tissue trauma and risk of infection;
Numerous varieties to cater to specific needs;
Pre-sterilized allowing immediate use;
Easily disposed;
Smooth, sleek structure of needles allow for easy impact of tissue;
Each size increment in the range of needles is color coded for easy distinction;
Relatively inexpensive;
Easy use (for trained physicians).
It is of utmost importance that needles are not reused. Once used, the device is not fit to be salvaged for further used, as sterilization cannot be retained. Sharing needles can result in infections being transmitted between patients, or in the case of reuse, transmission between health practitioner and patient;
Must prepare the device for use in a clean, sterile environment, absent of bodily fluids or other sources of contamination;
Great precaution must be taken as to not touch the needle with hands or other potentially contaminated surfaces;
Promptly and safely dispose of any needles that have touched a potentially contaminated surface;
Take care when handling needles, as they are sharp and potentially dangerous if misused;
Care must be taken when selecting the correct needle size – every patient requires a specific needle capacity;
Because the back is a hard to access region and the location in which the needle is administer, the procedure must be undertaken by a trained, qualified medical practitioner. Patients must not attempt to perform the procedure by themselves, as it could result in injury.
Needles are made from high-grade stainless steel, which is an optimal material for clean, painless puncturing of the skin and spinal cord. It is important the material is of optimal quality to ensure patient comfort, as well as alleviating difficulty for the physician to administer.