(choose the specifications you require below)
Capacity:
6ml;10ml;12ml;20ml
Closure:
Rotating Luer Adaptor;Fixed Luer Adaptor
Type:
3-part with Thumb Ring
Packaging:
1 piece/blister pack, 20 packs/box;1 piece/blister pack, 100 packs/box
AdvaCare is a CE, ISO and USFDA manufacturer of Control Syringe.
The AccuPoint™ brand of control syringe, including a wide range of capacities and rotator types, is internationally distributed and recognized for reliable quality and exceptional value. With distribution across developed and developing markets alike, our products are uniquely positioned as the brand of choice for medical professionals.
Control Syringes are non-toxic and latex-free medical disposables made of clear, glass-like polycarbonate material, with multiple options available for different types of applications.
AdvaCare's control syringes are equipped with a clear barrel that offers maximum clarity and smoothness during procedures as well as a solid plunger body to maintain stability and durability under pressure.
The syringes are specially equipped with rotating and (or) fixed luers which offer more flexibility and confidence in the connection of the luer. Our control syringes are uniquely designed with a safe space that effectively limits the risk of introducing air bubbles into the catheter.
AdvaCare's control syringes are manufactured with high-quality materials including medical-grade polycarbonate for the cylinder and a perfectly fitted silicone piston head that guarantees a more reliable seal. The transparent polycarbonate cylinder allows for enhanced visual effects of the gauge mark and the contrast level.
AdvaCare control syringe product line is GMP, ISO, CE and USFDA approved.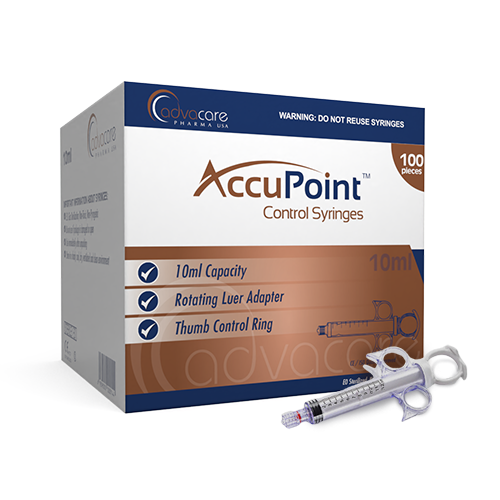 FIXED LUER ADAPTOR
Most common Specification;
Precise and with enhanced grip.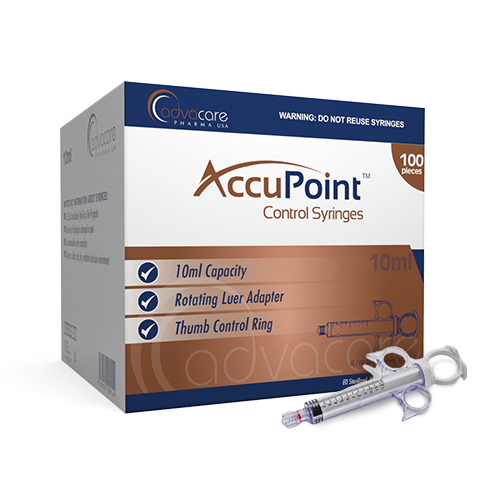 ROTATING LUER ADAPTOR
Higher accuracy in injection and aspirations procedurs;
Available as male or female luer adaptor.
Interested in more Products?
For more injection instruments, you can also check the following related products:
BENEFITS OF CONTROL SYRINGE
Specially designed for a more comfortable and accurate use for one-hand operations. Their characteristic plunger and barrel are designed for consistent movements – which does not requires as much force to use – for an easier and smoother injections and aspirations.
The clear cylinder barrel allows for exceptional clarity;
The solid plunger body maintains stability and durability under pressure;
Rotating and fixed luers ensure flexibility and confidence in the connection of the luer;
The specially designed safety space greatly reduces the risk of air bubbles getting into the catheter during procedure.
Keep the needle and syringe sterile. Check that the package is well sealed or that the cap of the needle and the piston cap hasn't been previously removed or opened. Avoid using the syringes if the packaging is damaged. A syringe that isn't sterilized properly is a potential source of diseases, avoid it at all costs. For the use, take the following steps:
Using aseptic technique, open the package containing the syringe;
Inspect the device before use to verify that no damage has occurred during transit;
To prepare the syringe, using one or two hands, pump the piston back and forth several times to ensure that the piston moves smoothly;
To fill the syringe, pull the plunger back;
Connect the syringe head to the female Luer by turning the syringe clockwise.
Do not over-tighten. Do not use any instrument to tighten connections;
To inject, push the syringe plunger, injecting the appropriate amount of fluid.
Always read the instructions carefully before using the product. In the event that the product is being used in conjunction with other manufacturers' components, also read their Instructions before the use;
Use proper aseptic techniques while handling product to prevent contamination from pathogens;
Meticulously inspect device prior to use to verify that no damage has occurred;
AdvaCare control syringe is for single patient use only. Do not re-use, re-process or re-sterilize.