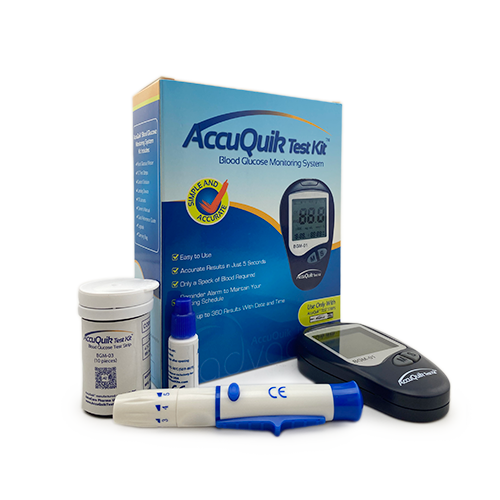 Loading…
(choose the specifications you require below)
Type:
Standard Monitor and Kit (BGM-01);Compact Monitor and Kit (BGM-02);Test Strips (BGM-03)
Test Strips:
25 pieces/bottle;50 pieces/bottle
Packaging:
1 device, 1 manual, 1 lancet pen, 25 test strips/kit
AdvaCare is a CE, ISO and USFDA manufacturer and global supplier of Blood Glucose Monitors. The AccuQuik™ brand of blood glucose monitor, including a comprehensive kit for measurement and data recording of glucose level in the bloodstream, is internationally distributed and recognized for reliable quality and exceptional value. With distribution across developed and developing markets alike, our products are uniquely positioned as the brand of choice for medical professionals.
Used generally by diabetics to help regulate their blood sugar levels, blood glucose monitor allows you to check your blood glucose levels as often as you need to or as recommended by your doctor.
AccuQuik's blood glucose meter utilizes the principle of the electrochemical method for the quantitative detection of the glucose levels in the blood. Test strips contain a capillary that sucks up a reproducible amount of blood. The glucose in the blood reacts with an enzyme electrode containing glucose oxidase (or dehydrogenase). The enzyme is reoxidized with an excess of a mediator reagent, such as a ferricyanide ion, a ferrocene derivative or osmium bipyridyl complex. The mediator, in turn, is reoxidized by reaction at the electrode, which generates an electric current. The total charge passing through the electrode is proportional to the amount of glucose in the blood that has reacted with the enzyme. The coulometric method is a technique where the total amount of charge generated by the glucose
oxidation reaction is measured over a period of time. A small drop of blood, obtained by pricking the skin with a lancet, is placed on a disposable test strip that the meter reads and uses to calculate the blood glucose level. The meter then displays the level in units of mg/dL or mmol/L.
AccuQuik Blood glucose monitor is available as a kit, with all the components required for an accurate reading of the glucose level in your blood.
METER DEVICE
Small digital device for determining the approximate concentration of glucose in the blood.
Two results reading (mg/dL, mmol/L) according to the most used meter system of your country;
Large memory storage with 360 blood glucose test results with date and time;
Easy to use device with two large buttons and a large, clear display;
Test results in only five seconds;
Alarm clock setting for periodical blood glucose level testing.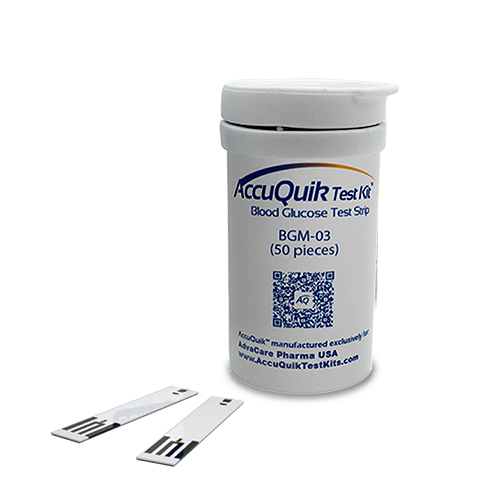 TEST STRIPS
Designed to easily collect blood drop into the sample tip.
Registration chip included in the box;
Top edge with confirmation window for clear blood sampling;
Stored in a practical top lid closing bottle.
LANCING DEVICE
A reusable one-handed device used to puncture the skin.
Easy to use;
Ejection Spring Controller;
Cap with a depth indicator allows lancet depth adjustment for puncture site;
Safe release mechanism to avoid contamination with infectious diseases.
LANCET
With protective cover for reducing the risk accidental needle bites;
With lancet pin for better grip into lancing device.
CONTROL SOLUTION
Control solution is included in our blood glucose monitors to ensures that the meter and test strips are working together properly.
Easy to use;
Glucose solution with fixed amount of glucose.
Interested in more Products?
For more medical devices, you can also check the following related products:
Thoroughly wash hands using soap and warm water, then dry hands;
Insert a fresh lancet into the lancing device. If you use a lancet more than once, it can become dull and cause pain or injure your skin. So, always use a fresh lancet;
Follow the manufacturer instructions for preparing your glucose meter and test strip;
Obtain a drop of blood using the lancing device from a fingertip. Alternative sites can also be used for collecting blood drops for testing purposes. Although an alternative site may involve less pain, blood taken from the fingertip will give you the most accurate results, best reflecting rapid rising or falling of blood glucose levels. If you find it difficult to obtain enough blood from your fingertip, try shaking your hand below the level of your waist, placing your fingers in warm water, or squeezing (sometimes called "milking") your fingertip;
After you lance your finger, apply the drop of blood to a test strip in the meter. The results should be displayed within five seconds;
Completed the test, properly dispose of your lancet in a puncture-resistant sharps container. Remember never to dispose of a lancet in your household trash.
For a more comprehensive list of instruction on how to perform the test of glucose level in your blood with AccuQuik's blood glucose monitors, make sure to refer to the user manual included with the kit.
Benefits of blood glucose monitors
It's an economic, compact, painless and convenient non-invasive device which can promote frequent blood testing which leads to effective blood glucose control;
The sensitivity and specificity is fully validated and currently fulfill the basic requirement of rapid diagnostic test;
They cover easy availability, affordability and field applicability as a point of care test.
This kit is designed for in vitro use only: any product coming in contact with blood is considered contaminated (potentially infectious);
During normal testing, any blood glucose meter may come in contact with blood;
Keeping the hands clean and using the lancet once to avoid infections;
Using different pricking site to avoid getting hard spots on your fingertips from frequent testing;
Keeping the meter and lancing device clean and disinfected;
Checking for expiration or damages to test strips and control solution.
Diabetic individuals around the world on an average use the monitor 3 times/day for type 1 diabetes and for type 2 diabetes from anywhere between 2 times/day. The monitor determines blood glucose patterns and helps the individuals to manage their lifestyle activities (Diet & Exercise).
One of the main aims of diabetes treatment is to keep blood glucose levels within a specified target range. Blood glucose monitoring can help you understand the link between blood glucose, food, exercise, and blood sugar.