Loading…
(choose the specifications you require below)
Type:
Butterfly Wing (SVS-02S) (SVS-02L);Single Wing (SVS-01S) (SVS-01L);Single Wing (Pediatric)
Size:
18G;19G;20G;21G;22G;23G;24G;25G;26G;27G
Closure:
Luer Slip;Luer Lock
AdvaCare is a CE, ISO and USFDA manufacturer and global supplier of Scalp Vein Set. The AccuPoint™ brand of scalp vein sets, available in different types, needle sizes, and closures, are internationally distributed and recognized for reliable quality and exceptional value. With distribution across developed and developing markets alike, our products are uniquely positioned as the brand of choice for medical professionals.
Scalp vein sets, also referred to as a winged infusion set, are manufactured and used to puncture a vein, usually located in the individual's hands, wrists and/or scalp to administer an injection or phlebotomy. This injection device is comprised of 2 bendable appendages, termed "wings", a hypodermic needle that inflicts minimal trauma to tissue, a linking mechanism which acts to connect the scalp vein set to another device, for example, a syringe and an extension tube which can be joined to an IV drip for example.
There are 4 primary types of scalp vein sets; single wing luer lock, single wing luer slip, butterfly wing luer lock, and butterfly wing luer slip. Each variant offers something different for the specific requirements of the patient. They will be examined in closer detail below.
The dual wing design guarantees secure, stable positioning on the patient's skin.
Scalp vein sets are equipped with very sharp needles to cleanly impact the skin and vein, to mitigate tissue trauma and subsequently decrease the risk of infection. Needles are fashioned from high-grade stainless steel which facilitates clean, painless puncturing of the vein.
Every scalp vein set is thoroughly sterilized and can be immediately used once unpackaged. They are simple, user-friendly devices. While it is recommended to have a trained physician administer the device, the simplicity and ease of use of the device make it possible for the patient to utilize safely and effectively.
Each scalp vein set is fitted with protecting coverings, to conceal the needle and thus reduce the likelihood of blood-borne disease transmission.
The device is designed for single use only, to further decrease the risk of infection transmissions such as HIV, AIDs, and Hepatitis through reuse. They are easily disposable, to ensure used scalp vein sets are not salvaged.
The tubing on a winged scalp vein set allows for greater flexibility and control when drawing blood from veins that are deemed to be difficult.
Smaller butterfly needles are used on infants and children), or patients whose veins are not readily visible/accessible. Larger butterfly needles are used on patients where larger volumes of blood are required for tests.
Our product lines are GMP, ISO, CE and USFDA approved.
AdvaCare scalp vein sets are designed with patient comfort in mind, achieved by focusing on quick, efficient venous access during infusion.
Single Wing
This variant of scalp vein set is fitted with a single wing.
The needle is joined to the tube via a luer Lock or luer slip, tightly screwed to prevent leaks;
Prevents leakage of liquids;
Used for IM and subcutaneous injections.
Single Wing (Pediatric)
This variant of scalp vein set is also fitted with a single wing.
The needle is smaller than the regular sized single wing scalp vein set, in order to accommodate younger infants;
Operates under same principle as regular single wing scalp vein set.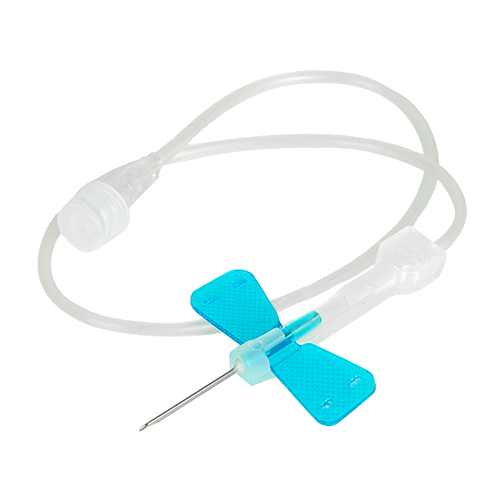 Butterfly Wing
This type of scalp vein set is fitted with a double winged tab.
Needle is attached to the tube with a luer Lock or luer slip, ensuring it is tightly screwed tightly into position using a leak-free system;
Dual wing system makes for enhanced control and precision compared to single wing device.
To commence the vein puncturing procedure, the wing(s) must be firmly placed between index finger and thumb. The grip must be located in near proximity to the needle, maximizing control of the device to impact the correct position of the vein and to avoid slippage of the needle, which may result in the vein being punctured incorrectly.
The structural design of the device ensures that the angle of infiltration is sufficiently shallow, which is beneficial for precise, accurate penetration.
Upon initial penetration, expect a small volume of blood to find its way into the clear tubing of the device. This is no reason for alarm, and is a normal response when penetrating the body with a foreign object. It arises due to the rapid release of pressure undergone by the veins as they are punctured. This occurrence of this response indicates successful entry into the vein.
With care, release the plunger steadily, and then remove the needle from the vein with caution. Hastily or aggressively withdrawing the needle could result in damage to the vein, leading to further medical complications.
It is imperative that the device is not used if the packaging or seal is compromised. Evidence of this may suggest tampering or loss of sterility. If one should come across a device within comprised packaging, the correct course of action is to dispose of it quickly and safely, to prevent infection.
Benefits of Scalp Vein Set
Sharp needles made from stainless steel to reduce tissue trauma and risk of infection;
Numerous varieties to cater to specific needs;
Easy to use, little instruction required;
Pre-sterilized, immediate use;
They limit risk of infection through accidents and thus protect both medical professionals and patients from transmitting blood-borne pathogens such as HIV or Hepatitis B;
Easy to handle, and are fitted with protective caps to conceal the needle – reduces spread of blood-borne diseases;
Designed for single use, easily discarded.
It is of utmost importance that the device is not reused. Once used, the device is not fit to be salvaged for further used, as sterilization cannot be retained. Sharing needles can result in infections being transmitted between patients, or in the case of reuse, transmission between health practitioner and patient;
Must prepare the device for use in a clean, sterile environment, absent of bodily fluids or other sources of contamination;
Must follow specific instructions, either from the information pamphlet or doctor when operating the device or storage;
Take great precaution in not touching the needle with hands or other potentially contaminated surfaces;
Always use a fresh, sterile needle every time a new injection is administered;
Promptly and safely dispose of any needles that have touched a potentially contaminated surface;
Take care when handling needles, as they are sharp and potentially dangerous if misused.
Needles are made from high-grade stainless steel, which is an optimal material for clean, painless puncturing of the vein. It is important the material is of optimal quality, to ensure patient comfort and alleviate difficulty for the physician to administer.
Interested in more Products?
For more infusion instruments, you can also check the following related products: