(choose the specifications you require below)
Type:
Standard Finger Monitor;
Response Time: 10 sec., Gravity Sensor Function, Pulse Waveform Display, Large OLED display, Automatic Power On/Off, SpO2: 70%-99% (1% res.), Accuracy: +/-2%, PR MEAS Range: 30bpm~250bpm, Power Source: 2xAAA batteries, Dimensions: 58x35.4x31.5mm
Compact Finger Monitor;
Response Time: less than 5 sec., One button Mode, Gravity Sensor Function, Pulse Waveform Display, Large OLED Display, Automatic Power Off, SpO2: 0%~100% (1% res.), Accuracy: +/-2%, PR MEAS Range: 30bpm~250bpm, Power Source: 2xAAA batteries, Dimensions: 5800mm
Packaging:
1 device/carrying case, 1 case/box
AdvaCare is a CE, ISO and USFDA manufacturer of Pulse Oximeter.
The pulse oximeter is a test to measure blood oxygen levels. It measures how well oxygen is transported in the body. A pulse oximeter is put on the finger that uses light for measuring oxygen in the blood. A small light beam measures the changes in light absorption in deoxygenated or oxygenated blood. Measuring your blood's oxygen levels helps to decide if additional oxygen is needed.
Normal oxygen level of people with optimal and healthy lung capacity should be between 95% and 100%. In addition, levels from 88% to 92% are still safe. Anything lower is a sign of issues that should be addressed. In many cases, doctors at clinics won't check the blood oxygen level unless breathing problems are present. Pulse Oximeter is, nevertheless, often used in emergency rooms and hospitals, since it can check quickly how well the patients' heart is pumping oxygen. An alternative solution to using Pulse Oximeter, however more troublesome and invasive, is taking a blood sample from an artery and measuring the oxygen level in the specimen. The test called arterial blood gas test or ABG can also detect other gases in the patients' blood.
The medical device can come in handy to patients with some chronic health conditions as well, such as asthma, heart disease or chronic obstructive pulmonary disease or COPD. In these instances, it is important for the patient to keep track of the results to decide easier if the medicine used is helping.
The AccuQuik Pulse Oximeter has a 2% accuracy. However, factors such as movement, physical activity, temperature or nail polish may impact the accuracy.
HOW DOES PULSE OX METERS WORK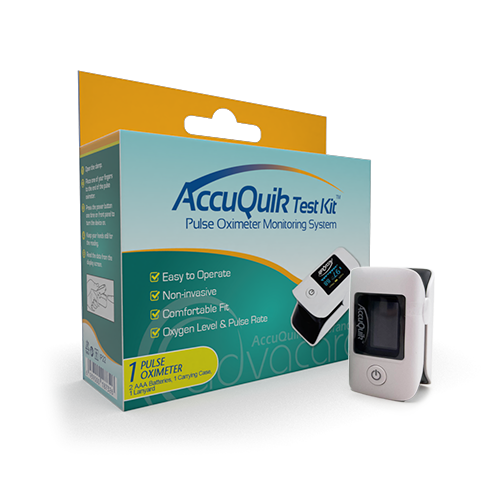 Light Absorption
Small beams of light pass through the blood in the finger, measuring the amount of oxygen;
A receiver measures changes of light absorption in oxygenated or deoxygenated blood;
The interval measured is converted into a pulse, used to measure blood circulation rate as well as oxygen saturation levels.
Monitoring the patient's blood oxygen level might help to diagnose chronic obstructive pulmonary disease (COPD), asthma, pneumonia, anemia, lung cancer, heart attack, and congenital heart defects. There are also many other uses for pulse oximetry as in to assess how the lung medication is working, to evaluate how helpful a ventilator is or the patient's ability for tolerating physical activity.
If a patients' oxygen levels are out of normal ranges, typical symptoms may occur, such as but not limited to shortness of breath, chest pain, confusion, headache or rapid heartbeat.
95% of oxygen saturation is the normal level for healthy individuals. 92% shows a sign of hypoxemia or deficiency in oxygen levels in the body, and it signals problems related to breathing or circulation.
Higher than normal levels of oxygen in the blood are difficult to be present. The percentage to be higher than 100% may only happen with assisted breathing, like using supplemental oxygen. However, this can only be detected with the ABG test, and can not be detected with Pulse Oximeter.
Interested in more Products?
For more diagnostic detection instruments, you can also check the following related products:
Benefits of Pulse Oximeters
Allows to monitor oxygen saturation over time;
Alerts dangerously low oxygen levels;
Offers peace to people with chronic respiratory or cardiovascular conditions;
Helps to assess the need for oxygen;
Monitors oxygen levels in people under anesthesia.
Put the clip-like device on the patient finger. Keep the device on the finger as long as you want to monitor the patient's pulse and oxygen saturation. If monitoring during physical activity, then measure the pulse during the exercise and also in the recovery period. During surgery, the pulse oximeter should be attached on a patient finger before and removed only after the patient is already awake.
Nailpolish on the fingers should be removed for the measurement.
Using the pulse oximeter might cause skin redness and sensitivity;
Prolonged use can cut off oxygen from surrounding vessels;
False reading may happen due to an incorrect fit;
Breath-holding dips the oxygen saturation for some time;
After using pulse oximeters the patient should discuss the results and risks with a doctor.