(choose the specifications you require below)
Packaging:
1 piece/pouch, 1 pouch/box;1 piece/pouch, 25 pouches/box;1 piece/pouch, 50 pouches/box
AdvaCare is a CE, ISO, USFDA manufacturer of Alcohol Test Kits.
Alcohol Test Kit is are a rapid method to test for alcohol in urine or saliva. Alcohol Test Kit only requires a small amount of urine or saliva to produce results and estimate intoxication levels, as the proportion of alcohol in the urine and saliva is directly related to the proportion of alcohol in the blood. The higher the alcohol concentration, the darker shade of green the test strip or cassette will become.
The reagent pad of the Alcohol Test will turn green within two minutes if there is a presence of 0.02% Blood Alcohol Concentration or greater.
Alcohol is absorbed quickly by the body. Once in the body, it interacts with various systems and leaves behind traces of its existence in the form of metabolites. In 24 hours, these metabolites will be fully metabolized by the body. However, the indicators of alcohol consumption remain detectable for the first 12-24 hours in a person's saliva even after alcohol ingestion. By using a saliva-based alcohol test, one can most accurately verify recent alcohol consumption.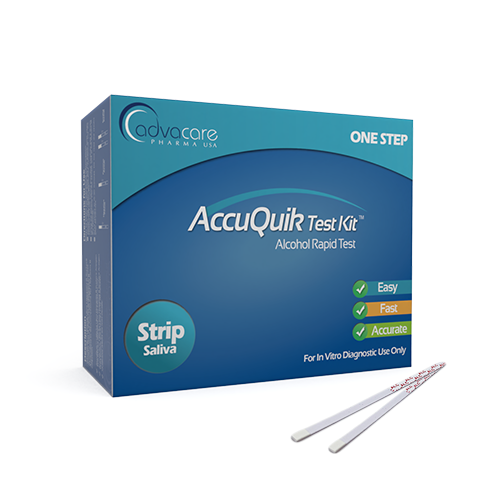 WHAT IS BAC?
Blood alcohol content (BAC) is a measurement of alcohol intoxication. At different levels BAC has different impairment:
0.02% - 0.05%: speech/memory impairment, attention/coordination/balance impairment, increased aggressiveness;
0.06% - 0.3%: judgment and decision making impaired, vomiting, loss of consciousness;
0.3% - higher: Potentially fatal.
When using Alcohol Test Kits, avoid placing anything in the mouth fifteen minutes prior to taking the test. These can include alcohol, breath mints, food, and more.
Make sure to wait for two minutes before observing the color of the test strip or cassette. A green or blue color indicates the presence of alcohol. Results after two minutes and thirty seconds have the risk of being erroneous.
It takes two hours for alcohol to appear in your urine, and it is detectable for up to 12 hours. False positives are possible if you have diabetes, a yeast infection, urinary tract infection, or your urine is left at room temperature.
Interested in more Products?
For more test kits, you can also check the following related products:
Benefits of Alcohol Test Kit
This is a newer rapid, sensitive, and specific technology;
This technology is portable, automatic, and easily disposable;
The sensitivity and specificity are fully validated and currently fulfill the basic requirements of rapid diagnostic tests;
They are available, affordable, and usable as a point of care tests.
The Alcohol Test Kits can be performed using human urine or saliva.
To perform the Alcohol Test, first, collect the specimen into a clean cup and then dip the reagent end tip into the specimen for a few seconds. Once saturated sufficiently, place the test onto a flat surface. After 2 minutes, read the test and compare the color of the test control window/section with the color standards on the box to estimate the alcohol level.
The Alcohol Test Kit test from a wide range of Blood Alcohol Concentration and is completely disposable. The darker shade of color, the higher the percentage BAC of alcohol is present.
This kit is designed for in vitro use only. Eating, drinking, or smoking in the area where the specimens or kits are handled is not advisable;
Be careful with urine because it may contain infectious diseases. Always wear gloves and wash your hands with soap and water after handling urine;
Do not use this test if you are color-blind;
The dilution of urine may cease the facilitation of the test;
A positive test result does not always mean the donor has abused drugs as it may have been prescribed by a doctor;
Do not store or expose the test kit to temperatures greater than 30°C.