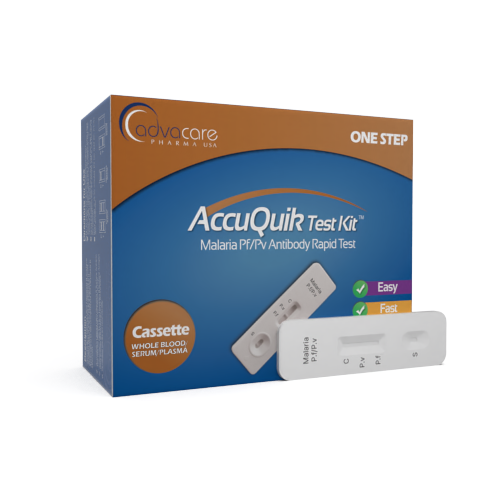 Loading…
(choose the specifications you require below)
Test:
Malaria Pf Antigen Rapid Test (DTD-08S / DTD-08W);Malaria Pf/Pv Antibody Rapid Test (DTD-09SB / DTD-09WB);Malaria Pf/Pv Antigen Rapid Test (DTD-09SG / DTD-09WG);Malaria Pf/Pan Rapid Test (Cassette only) (DTD-10)
Specimen:
Serum/Plasma;Whole Blood
Packaging:
1 strip/pack, 50 packs/box;1 cassette/pack, 25 packs/box;1 cassette/complete set, 1 set/box
AdvaCare is a CE, ISO and USFDA manufacturer of Malaria Test Kits.
AccuQuik malaria test kits assist in the diagnosis of malaria by detecting evidence of malaria parasites (antigens) in human blood through the use of species-specific complementary markers in the test device.
The malaria test kits are available to detect both Plasmodium falciparum and Plasmodium vivax infection. It is a one-step test that takes approximately 20 minutes to provide a result. An individual with a positive result should consult a doctor for the first line treatment.
Malaria is caused by a parasite, which when in the body is recognized as a foreign object by antibodies specific to the parasite. The test detects the presence of these specific antibodies/immunoglobulins.
Our malaria diagnostic test kits are accurate in 98% of cases, clearly demonstrating their reliability. Certain medical factors may influence the result of the test, for instance, an individual taking other medications should consult a doctor before taking the test.