(choose the specifications you require below)
Material:
SP/SMS/SMMS/SMMMS (4ply);SBPP/SMS/SMMS/SMMMS/SMF (5ply);SBPP+PE film/SMS/SMMS (3ply);SBPP+PE/SMS/SMMS+SMF (3ply);SBPP+PE/SMS/SMMS (3ply);SMS/SBPP+Poly/Viscose/SMMS (4ply);SMMS/SMS/PP+PE (3ply);SBP+PE/SMS/SMMS/SMMMS (4ply);SBPP/SMS/SMMS/SMMMS+SMF (4ply);SBPP/SMS/SMMS/SMMMS (4ply);SBPP/SMS/SMMS/SMMMS + Elastic Film (5ply);SMS/PP/PP+PE/Viscose+PE (4ply)
Size:
60 x 60cm;80 x 100cm;150 x 150cm;120 x 200cm
Type:
Angiography/Cardiovascular (4ply);C Section (5ply);Fenestrated Waterproof (3ply);Gynaecology/Cystoscopy (3ply);Impervious (3ply);Laparoscopy (4ply);Operation Waterproof (3ply);Ophthalmic (4ply);Spine Surgery (4ply);TUR (3ply);U Split (4ply);Upper Limb (4ply);Shoulder (4ply);Slotted Hole (4ply)
AdvaCare is a CE, ISO and USFDA manufacturer and global supplier of Surgical Drapes. The StaySafe brand of Surgical Drapes are internationally distributed and recognized for reliable quality and exceptional value. With distribution across developed and developing markets alike, our products are uniquely positioned as the brand of choice for medical professionals.
The main function of surgical drapes is to provide a barrier around the targeted area of the body that is about to undergo a surgical procedure that offers protection from potentially hazardous or infectious material. The head is left uncovered.
Surgical drapes are sterilized and disposable. They should only be used a single time, and discarded correctly afterwards. This assists in the prevention of contamination transmission.
The disposible surgical drape is attached to two poles located at one end of the bed, forming an ether screen. The screen segregates the surgeons working space, which is non sterile, from the surgical site, which is sterile.
The sterile surgical drapes establish a perimeter which forms a "sterile field". This sterile environment is crucial when conducting a surgery and once the surgery is finished to protect against the threat of pathogens or other contaminants which can cause infection or more dire illnesses.
Drapes offered by AdvaCare are high in fluid and puncture resistance. The drapes are relatively inexpensive as well.
AdvaCare drapes are available with a number of different openings. They come with an elliptical opening, a square opening or no opening at all. The different types of openings have the same function; to access the site in which the surgery is taking place. The only distinction is the shape.
Drapes can come including tape or not including tape, depending on the boundaries of the procedure.
The surgical drapes are available in two primary materials. They are polypropylene + polyethylene (PP+PE) and is a combination of 2 materials. The other material is spunbond + meltblown + spunbond (SMS).
The PP+PE drapes are significantly cheaper than their SMS counterparts. They are lightweight and relatively durable; however they have low resistance to liquids. When taking into account the properties of PP+PE, they are more suited for lower risk environments.
SMS drapes are breathable and comfortable. Unlike PP+PE drapes, SMS drapes are considerably more resistant to liquids, and have a much higher resistance to punctures. They are also equipped with 3 layers, bolstering strength and protection. One of the layers is bacterial, and acts as a repellent. They are more expensive than their alternative, however because of their enhanced properties; they are safer and suited for higher environments.
Selection of which surgical drapes to use should be made based on the specific aspects of the procedure. This includes the anticipated contaminants that one will be exposed to, and the area of the body that is being operated on.
PP + PE SURGICAL DRAPES
Drapes are composed of polypropylene and polyethylene.
Affordable medical standard;
Low resistance to fluids;
Suited to low risk procedures.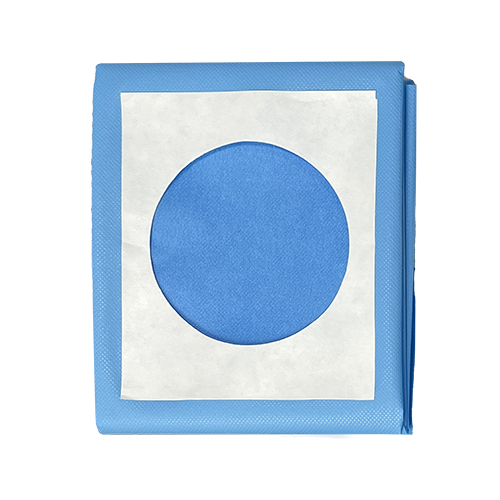 SMS SURGICAL DRAPES
This variant is composed of SMS (spunbond, meltblown, spunbond).
Three layered design provides high strength;
More costly than PP+PE drapes;
Bacterial layer, protection against bacteria.
Interested in more Products?
For more medical clothing, you can also check the following related products:
Benefits of Surgical Drapes
Variety of materials, each one catering to the different needs of the procedure, the patient, and the wearer;
Relatively inexpensive, safe to use. Less expensive variant available;
Protects the wearer and the patient from contracting infections due to cross contamination;
Creates a sterile area during surgery that protects against contaminants and pathogens;
Easily disposed, low risk of transferring contaminants since they are single use;
Surgical drapes are available in multiple sizes, depending on the demands of the operation;
Relatively inexpensive;
Drapes are water resistant, anti-bacterial and sturdy.
Correctly sized surgical drapes must be selected that corresponds to the size opf the patient and the size of the area that is being operated on. Drapes that cover too little of the area will result in ineffective surgery, and drapes that expose too much will increase the risk of transmitting potentially contaminated or infectious material.
High risk procedures require drapes that are stronger and resistant to substances such as fluids or chemicals. If bacterial transmission is a concern, drapes equipped with a bacterial layer are needed, for example the SMS drapes. Using drapes that are not fit for the level of protection required can result in patients and medical professionals being exposed to potentially non-sterile conditions.
Drapes are set up in such a way that the body of the patient is covered and protected, whilst leaving the head exposed. The drapes establish a protective barrier to construct a sterile perimeter to defend against material that may be contaminated. The draped area removes the passage of potentially harmful pathogens that traverse between non-sterile and sterile regions.
It is imperative that the surgical drapes are not used if the packaging or seal is compromised. Evidence of this may suggest tampering or loss of sterility. If one should come across drapes inside comprised packaging, the correct course of action is to dispose of it quickly and safely.
It is of utmost importance that surgical drapes are not reused. Once used, the device is not fit to be salvaged for further used, as sterilization cannot be retained. Re-using drapes can result in infections being transmitted between health practitioner and patient;
Must prepare the drapes for use in a clean, sterile environment, absent of bodily fluids or other sources of contamination;
Promptly and safely dispose of any drapes that have touched a potentially contaminated surface;
Correct material must be selected according to procedure – high risk procedures require a material that offers superior protection, for example drapes made from SMS;
Care must be taken when selecting the correct drapes size – Correctly sized drapes are imperative for the surgeon to perform a procedure to a high standard and to maintain safety.
Surgical drapes are manufactured using a variety of materials. The materials used in the range offered by AdvaCare are polypropylene + polyethylene (PP+PE) and spunbond + meltblown + spunbond (SMS).