(choose the specifications you require below)
Material:
Latex Standard (SGL-01);Latex Microsurgery (SGL-02);Latex Orthopedic (SGL-03);Nitrile (SGL-04);Polyisoprene (SGL-05)
Surface:
Powdered;Powder-Free
Texture:
Micro-Rough;Smooth
Size:
6.0;6.5;7.0;7.5;8.0;8.5;9.0
AdvaCare is a CE, ISO and USFDA manufacturer and global supplier of Surgical Gloves. StaySafe brand of Surgical Gloves are internationally distributed and recognized for reliable quality and exceptional value. With distribution across developed and developing markets alike, our products are uniquely positioned as the brand of choice for medical professionals.
The primary function of surgical gloves is to protect the surgeon from cross-contamination when operating on a patient or potentially infectious or contaminated material.
Surgical gloves are manufactured to a higher standard than examination gloves, due to the precision and meticulousness required in a surgical operation, as well as the high risk of contamination when handling human matter. It is imperative that conditions during surgery are immaculate, which includes steriled surgical gloves of the highest quality.
AdvaCare offers nitrile gloves, polyisoprene gloves and 3 variants of latex surgical gloves, each composed of a unique material with different properties and applications.
All variants of disposable surgical gloves are available in powdered or non-powdered surfaces. Powdered gloves prevent them sticking together and thus easier to use, however the non-powdered versions are more beneficial for the wearers skin. Selection should be made based on the requirements of the task and personal preference.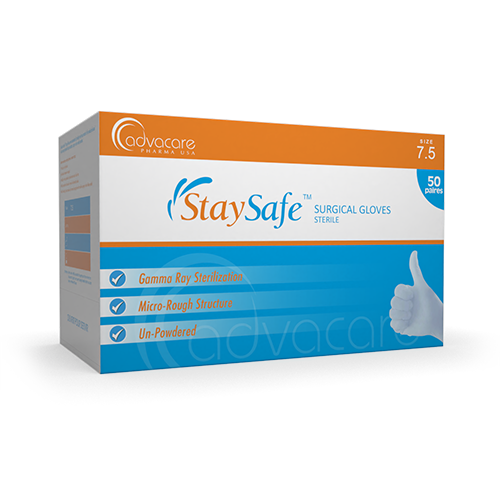 Latex Surgical Gloves (Standard, Microsurgery, Orthopedic)
StaySafe latex range is high in elasticity, providing prime conforming ability and comfort while still remaining resistant to punctures and from chemical and pathogens contacts. Latex Orthopedic gloves have the highest level of protection, followed by latex standard and then latex microsurgery. Latex microsurgery gloves should only be used in low risk procedures.
Provides high comfort and conforming ability;
High elasticity (elongation limit is approximately 750%).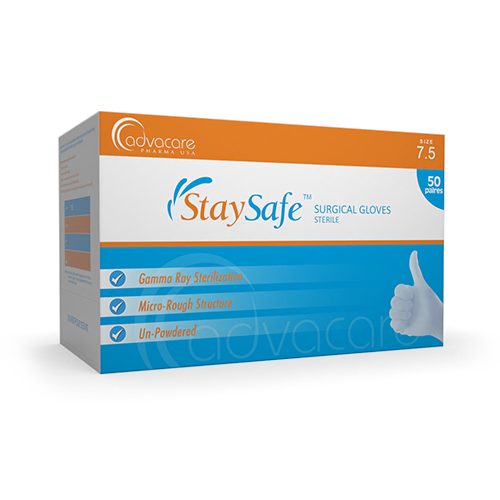 Nitrile Surgical Gloves
The nitrile range is manufactured from synthetic polymers of high quality. This material is less prone to causing allergic reactions (unlike latex, which people can be allergic to) and skin irritation.
Highest resistance to puncturing and corrosive/irritable chemicals;
Suitable for people with latex allergies.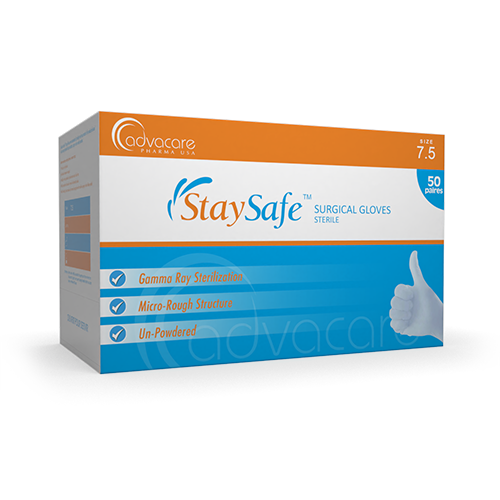 Polyisoprene Surgical Gloves
StaySafe Polyisoprene Series have a high level of protection as well as supreme elasticity. Due to the similarity in properties with latex surgical gloves, it is the best alternative if latex gloves are desired but an allergy to the material is preventing their use. They are the most expensive glove material.
More permeable than latex, with a similar resistance to puncturing;
Good alternative for people with latex allergies.
Interested in more Products?
For more medical wear and clothing, you can also check the following related products:
Benefits of Surgical gloves
Wide variety of materials, each one catering to the different needs of the procedure, the patient, and the glove wearer;
Relatively inexpensive, safe to use (if one is allergic to latex, there are other materials available;
Protects the wearer from contracting infections due to cross contamination;
Easily disposed, low risk of transferring contaminants since they are single use;
Surgical gloves are available in multiple sizes. There is a size for everybody;
Gloves conform to size and shape of hand, translating to a comfortable fit for the wearer;
Relatively inexpensive;
Gloves are ambidextrous, enabling use on both hands.
Correct size of glove must be worn by the user, as gloves that are too big may slip off mid-examination or if they're too tight, they may break. In either case, safety for the wearer and the patient is comprised.
If the individual is allergic to latex, alternative material must be used. If unsure, an alternative material should be used in case the individual is allergic. Testing for a reaction to determine if allergic or not should be undertaken.
Surgical gloves are slipped over the hands, ensuring correct fit and comfort is attained. Slight adjustments may be necessary in order to achieve this. The wearer is ready for surgical operation.
It is imperative that the gloves are not used if the packaging or seal is compromised. Evidence of this may suggest tampering or loss of sterility. If one should come across gloves inside comprised packaging, the correct course of action is to dispose of it quickly and safely.
It is of utmost importance that gloves are not reused. Once used, the device is not fit to be salvaged for further used, as sterilization cannot be retained. Re-using gloves can result in infections being transmitted between health practitioner and patient;
Must prepare the gloves for use in a clean, sterile environment, absent of bodily fluids or other sources of contamination;
Sterile gloves must be worn for invasive procedures;
Promptly and safely dispose of any gloves that have touched a potentially contaminated surface;
Correct material must be selected according to procedure – high risk procedures require a glove material that is puncture resistant i.e. nitrile gloves;
Care must be taken when selecting the correct glove size – A comfortable, correct fit is imperative for the wearer to perform a procedure to a high standard and to maintain safety;
It is important to ensure examination gloves are not used in surgery. Whilst they are similar, surgical gloves are manufactured to a higher standard and are more resistant to damage than examination gloves. This is due to the higher risk of contamination in environments that would require the use of surgical gloves;
If the individual is allergic to latex, gloves made from an alternative material must be used. If unsure, an alternative material should be used in case the individual is allergic. Testing for a reaction to determine if allergic or not should be undertaken before latex gloves can be safely worn.