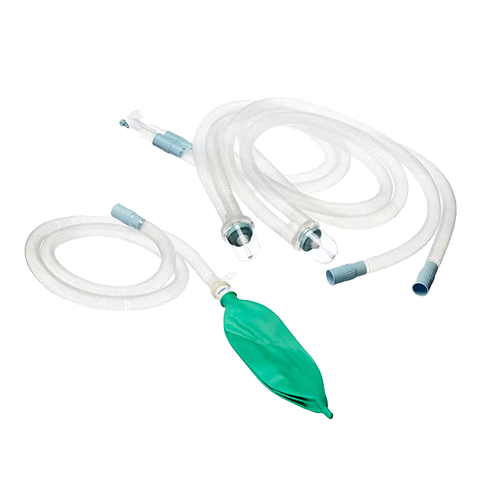 Loading…
(choose the specifications you require below)
Type:
Expendable Circuit;Reinforced Expendable Circuit
Filter:
Heat & Moisture Exchange Filter (HMEF)
Catheter Mount:
Expendable;Reinforced
AdvaCare is a CE, ISO and USFDA manufacturer of Disposable Anesthesia Breathing Circuit Kit.
The StaySafe™ brand of Disposable Anesthesia Breathing Circuit Kits, manufactured in multiple types, is internationally distributed and recognized for reliable quality and exceptional value. With distribution across developed and developing markets alike, our products are uniquely positioned as the brand of choice for medical professionals. AdvaCare's breathing circuit kits are specially designed to deliver exceptional value by providing the optimal configurations for anesthesiology, operating and recovery rooms. Designed with safety in mind, AdvaCare's breathing circuit kits are equipped to reduce circuit breaks, confirm optimal humidification at the patient wye and simultaneously streamline clinician efficiency. In addition, our disposable breathing circuit kits help to avoid patient and clinician exposure to mucosal secretions while simultaneously promoting continuous gas exchange.
Our disposable anesthesia breathing circuit kits are manufactured following strict GMO, CE, ISO and USFDA standards.
Interested in more Products?
For more medical wear and clothing, you can also check the following related products:
BENEFITS OF DISPOSABLE ANESTHESIA BREATHING Circuit Kit
Features multiple choices in circuit styles;
Equipped with transparent tubes that make viewing inside the tube easier;
Features multiple configuration choices;
The inner smooth surface of the tubes allow for easy drainage of condensed water and contributes to reduce the risk of interruptions in anesthesia;
Equipped with soft and flexible connectors which ensure a perfect seal with anesthesia machine inlet and outlet.
Firstly, peel off the bag and take out the product. Continue by carefully inspecting all the connection parts of the product, and tightening all the connections. This is done so as to avoid leakage or looseness when the product is used.
Then, take steps to test the product and ensure that it is compatible with the machine in use. Ensure that there is no leakage or blockage (as mentioned above). If a sampling connection is missing, ensure that the sampling ports (such as the temperature, pressure, and gas sampling ports) are tightly covered by caps so as to avoid leakages.
When using the product, please connect the l-piece to the anesthesia and breathing machine, and connect the L-piece to the patient. When the product is working well, ensure to monitor the patient's situation closely.
Make a habit of regularly inspecting the medical equipment before use. In the event that it becomes contaminated, please replace it immediately.
All operations related to this product should be handled by a qualified medical professional;
This equipment is intended for single use only. Any attempt at reusing it may lead to the spread of infections and diseases;
Avoid using the product if there are signs that its packaging was tampered with;
Do not use after expiry date.