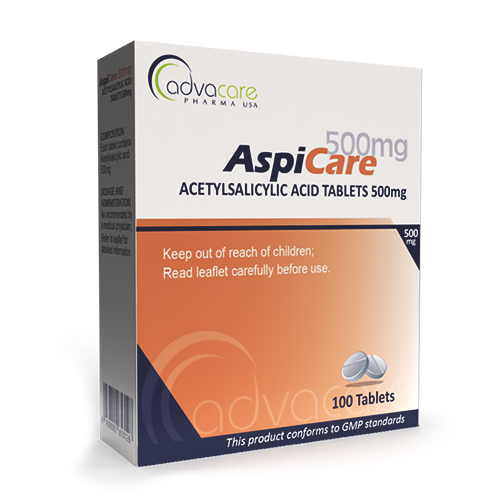 Loading…
(choose the specifications you require below)
Packaging:
10 capsules/blister, 3 blisters/box;10 capsules/blister 10 blisters/box;1,000 capsules/bottle
Therapy:
Analgesic, Anti-inflammatory, Anti-pyretic
Active Ingredients:
Acetylsalicylic Acid
General Information:
AdvaCare is a GMP manufacturer of Acetylsalicylic Acid capsules.
Aspirin (acetylsalicylic acid) capsules are part of the nonsteroidal anti-inflammatory drug family.
They exhibit irreversible inhibition of the cyclooxygenase enzyme which in turn interrupts the formation of bodily thromboxane and platelet aggregation.
Aspirin capsules are often used to treat symptoms of generalized aches and pain, rheumatoid arthritis, angina, fever, headaches and migraines, and myocardial infarction.
AdvaCare manufactures this product according to GMP standards.
Side Effects:
As with all pharmaceuticals, some unwanted effects can occur from the use of aspirin capsules.
Always consult a doctor or health care professional for medical advice before use. Common side effects include, but may not be limited to upset stomach, heartburn, drowsiness, mild headache.
Seek medical attention if the following develop: ringing in your ears, confusion, hallucinations, rapid breathing, seizure, severe nausea, vomiting, stomach pain, bloody or tarry stools, coughing up blood, fever lasting longer than 3 days or swelling or pain lasting longer than 10 days.
For a comprehensive list of all possible effects, consult your doctor.
If any symptom persists or gets worse, or you notice any other symptom, then please call your doctor immediately.
Always consult your doctor or pharmacist before taking aspirin capsules.
If your condition does not improve or becomes worse, then call your doctor.
Driving or operating machinery is okay.
Do NOT use aspirin capsules if:
You are allergic to any of the ingredients;
You have a history of stomach bleeding or intestinal bleeding;
You have a bleeding disorder such as hemophilia;
You have ever had an asthma attack or severe allergic reaction taking aspirin or an NSAID.
Use of aspirin capsules during pregnancy or breast feeding is not recommended as taking aspirin during late pregnancy may cause bleeding in the mother or baby during delivery and aspirin can pass into breast milk and may harm a nursing baby. Consult your doctor or health care professional before taking aspirin.
Refer to your doctor or pharmacist for guidelines on dosage. Do not exceed what they advise. The usual dose for adults is: 325 to 650mg orally or rectally every 4 hours as needed, not to exceed 4g/day. The usual dose for children is: depending on condition, severeness and weight 2 to 11 years: 10 to 15mg/kg orally or rectally every 4 to 6 hours as needed, not to exceed 4g/day. 12 years or older: 325 to 650mg orally or rectally every 4 hours as needed, not to exceed 4g/day.
Blood thinners, antidepressants and salicylates might interact with aspirin. Consult with your doctor about any medications you are taking, before your treatment with aspirin capsules.
Interested in more Products?
For more anti-inflammatory items, you can also check the following related products: