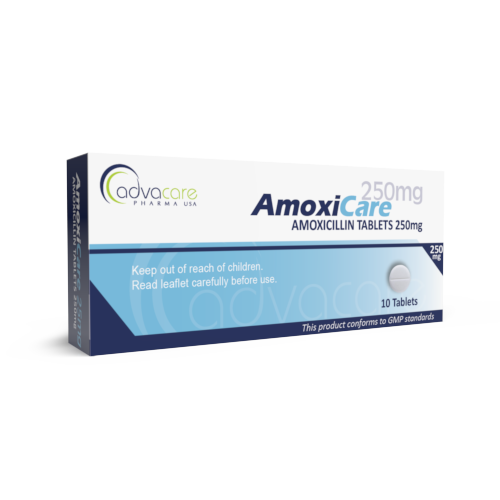 Loading…
(choose the specifications you require below)
Packaging:
10 tablets/blister, 1 blister/box;10 tablets/blister, 2 blisters/box;10 tablets/blister, 10 blisters/box;1,000 tablets/bottle
Therapy:
Antibiotic, Anti-infective
Active Ingredients:
Amoxicillin
General Information:
AdvaCare is a GMP manufacturer of Amoxicillin tablets.
Amoxicillin tablets (amoxycillin) are a moderate-spectrum, bacteriolytic, beta-lactam antibiotic used to treat bacterial infections caused by susceptible microorganisms. Amoxicillin is usually the drug of choice within the class because it is better absorbed, following oral administration than other beta-lactam antibiotics.
It is also sometimes used together with another antibiotic to treat other infections. Amoxicillin capsules are used to treat many different types of infections caused by bacteria, such as ear infections, bladder infections, pneumonia, gonorrhea, and E. coli or salmonella infection.
Side Effects:
As with all pharmaceuticals, some unwanted effects can occur from the use of amoxicillin. Always consult a doctor or health care professional for medical advice before use.
Common side effects may include: allergic reactions, high liver enzymes, superficial skin infections which won't go away, diarrhea, headache, nausea and vomiting, rash, serum problems, gastrointestinal ones such as black hairy tongue or colitis, hypersensitivity reactions like liver dysfunctions, cholestatic jaundice, hepatic cholestasis or cytolytic hepatitis, renal problems, anemia, central nervous system reactions such as hyperactivity, agitation, anxiety, insomnia, confusion, convulsions, behavioral changes or dizziness, teeth discoloration (brow, yellow or gray).
For a comprehensive list of all possible effects of amoxicillin tablet, consult your doctor. If any symptom persists or gets worse, or you notice any other symptom, then please call your doctor immediately.
Always consult your doctor or pharmacist before taking amoxicillin tablets. In particular, talk to your health care providers in case of allergic reactions. If you are taking other medicines, or you think you may need to use an alternative form of amoxicillin tablets, always remember to ask your doctor's opinion first. In these cases it's useful to keep with you a list of all the drugs you are taking. Talk to him before starting any new cure as well, vitamins and natural products included. If your condition does not improve or becomes worse, then call your health care providers. Never use this medicine for a longer period of time than you have been told by your doctor or in smaller/larger doses.
Take this medication for the entire prescribed duration, even though your symptoms improve before the infection is completely cleared. Amoxicillin is not supposed to cure viral infections such as the common cold or flu. Do not share this medication with another person, even if they have the same symptoms you have.
If your condition does not improve or becomes worse, then call your doctor.
Driving or operating machinery is okay, as it does not cause ailment.
Indications and Usage
Take amoxicillin exactly as suggested by your doctor or health care provider and take this medicine at the same time each day.
While using amoxicillin, you may need frequent blood tests. Your kidney and liver function may also need to be checked.
If you are taking amoxicillin with clarithromycin and/or lansoprazole to cure stomach ulcers, use all prescribed medications as directed by your doctor, pharmacist or heath care specialist. Read the medication guide or patient instructions provided with each medication. Do not change your doses or medication schedule unless your doctor suggests you to.
Store at room temperature away from moisture, heat, and light.
Administration and Dosage
Refer to your doctor or pharmacist for guidelines on dosage. Do not exceed what they advise.
Usual dose for adults is:
The usual dose of amoxicillin tablet is 250mg three times a day.
Usual dose for children is:
Children weighing more than 40kg should be given the usual adult dosage;
In case Children weighing less than 40kg, consult with your doctor.
Consult with your doctor about any medications you are taking, before your treatment with amoxicillin tablet.
Interactions
If your doctor has prescribed you amoxicillin as a treatment to cure diabetes, he/she may already know about any possible medicine interactions and should consequently monitor you for them.
No severe interactions with amoxicillin have been recorded, while there are about 27 drugs that may mildly interact with it. Some of them are: pyridoxine, erythromycin stearate, erythromycin lactobionate, erythromycin ethylsuccinate, erythromycin base, clarithromycin, chloramphenicol, aztreonam, azithromycin and amiloride.
This list doesn't include all possible drugs that can interact with amoxicillin. For a comprehensive list of those medications, consult your doctor.
Overdose
If you take a larger dose than you should take, tell your doctor, pharmacist or health care specialist immediately even if you don't feel bad. Bring with you the container and tell them about the amount you took and related timing.
Adverse Reactions and Precautions
Do not use amoxicillin if you are allergic to it or to any penicillin antibiotic, like penicillin, dicloxacillin, oxacillin and ampicillin.
If you are allergic to cephalosporins such as omnicef, cefzil, ceftin or Keflex, inform your doctor before starting using amoxicillin. If you have asthma, kidney or liver problems, bleeding or blood clotting disorders, mononucleosis or any allergy, first ask your doctor for consultation.
This medication can make birth control pills less effective. Ask your doctor or health care specialist for an alternative form such as condoms, diaphragm or spermicide during the duration of the treatment, in order to prevent unexpected pregnancies.
Antibiotics may cause diarrhea, which can be a symptom of a new infection or an infection that hasn't been properly cured. If you have watery or bloody diarrhea, stop taking this medication and call your doctor or health care specialist and avoid using anti-diarrhea drugs if not prescribed by them.
Do not administer to patients if not sure about the presence of bacterial infections, as it may cause the risk of development of drug-resistant bacteria.
Infections with bacterial or fungal pathogens may occur during the treatment; if so, stop taking amoxicillin immediately and begin and appropriate treatment.
High doses may affect the result of some lab tests (e.g. False urine glucose tests).
Use of this drug during pregnancy may be acceptable, as studies on animals showed no risks, but always ask you doctor's opinion first. Use with caution if breast-feeding.
Interested in more Products?
AdvaCare also offers different forms for amoxicillin, discover few of them here below: