(choose the specifications you require below)
AdvaCare is a CE, ISO and USFDA manufacturer of Veterinary Needles.
The AccuPoint™ brand of veterinary needles, including a wide range of gauges and sizes, is internationally distributed and recognized for reliable quality and exceptional value. With distribution across developed and developing markets alike, our products are uniquely positioned as the brand of choice for medical professionals.
AdvaCare veterinary needles are used in situations like a veterinary intradermal, subcutaneous, intramuscular and intra-articular injection. Our needles are manufactured using best quality cold rolled stainless steel tips which makes them highly resistant to corrosion and suitable for luer lock or luer tip glass syringes.
Our veterinary needles feature specially designed hubs that allow for secure gripping even under the most strenuous circumstances. The cannulae are made from stainless steel tubing and feature sharper veterinary bevels which offer longer life, reduced coring and less painful during skin penetration.
AccuPoint™ veterinary needles are manufactured in three different capacities depending on the insulin dosage, and all ISO, CE, and USFDA approved.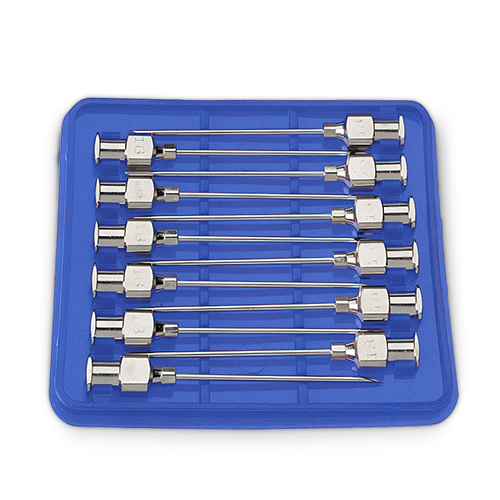 FEATURES
Specifically designed for pairing with veterinary metal syringes;
Needle Hub made from electroplated brass;
Highly-resistant medical-grade stainless steel;
Reusable after proper disinfection.
Interested in more Products?
For more injection instruments, you can also check the following related products:
BENEFITS OF VETERINARY NEEDLES
Thick-walled needle tube with exceptional stability and elasticity;
Direct removal from transparent container ensures reduced risk of injury and contamination;
Super sharp veterinary bevel ensures longer life, reduced coring and painless skin penetration;
The specially designed hub feature stamp marks that make it easy to identify the gauge size of the needles;
Always make sure to wash your hands before and after handling medicinal products. At all times, use a sterile needle for each animal. Whenever possible, try to use single-use disposable needles as the risk of transmitting infections from animal to animal increases when reusing needles. Always choose the smallest needle size (in diameter) that resonates with the use of the medicine and corresponding volume to be injected. This will minimize tissue damage and leakage.
When choosing needle length, consider the type of injection to be given and the size of the animal being injected. Shorter needles can be used for subcutaneous injections and longer needles for intramuscular injections.
When restraining animals prior to receiving an injection, try to use a good animal restraint technique, because a good restraint technique prevents needles from breaking off at the hub when the animal moves suddenly.
Try to always use a new sterile needle, if you notice a needle is bent or has developed a burr, and dispose of it immediately;
To avoid spreading infection, avoid going back into the vaccine (or medicine) with the same needle you used to inject an animal.