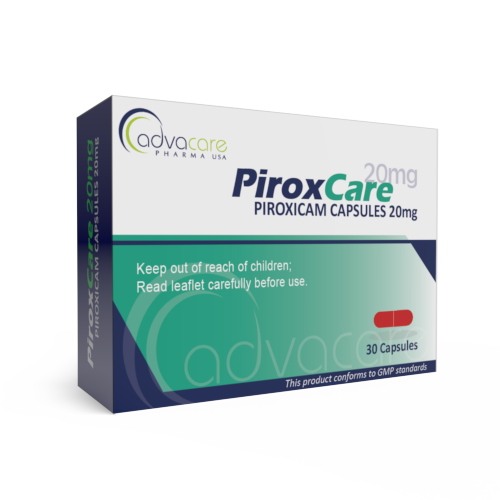 Loading…
(choose the specifications you require below)
Packaging:
10 capsules/blister, 1 blister/box;10 capsules/blister, 10 blisters/box;1,000 capsules/bottle
Therapy:
Analgesic, Anti-pyretic, Non-steroidal Anti-inflammatory Drug (NSAID)
Active Ingredients:
Piroxicam
General Information:
AdvaCare is a GMP manufacturer of Piroxicam capsules.
Piroxicam capsules are a non-steroidal anti-inflammatory drug of the oxicam class possessing both analgesic and antipyretic properties. It works by reducing hormones that cause inflammation and pain in the body and it is used to relieve the symptoms of rheumatoid arthritis and osteoarthritis, primary dysmenorrhoea, ankylosing spondylitis, or postoperative pain.
Piroxicam is also used in veterinary medicine to treat certain neoplasias expressing cyclooxygenases (COX) receptors, such as bladder, colon, and prostate cancers.
Side Effects:
Common side effects may include: abnormal liver function tests; urination problems; upset stomach, heartburn, loss of appetite, stomach pain, nausea, vomiting; gas, diarrhea, constipation; dizziness, headache; itching, rash; or ringing in your ears.
Get emergency medical help if you have signs of an allergic reaction such as sneezing, runny or stuffy nose; wheezing or trouble breathing; hives; swelling of your face, lips, tongue, or throat.
Get emergency medical help if you have signs of a heart attack or stroke: chest pain spreading to your jaw or shoulder, sudden numbness or weakness on one side of the body, slurred speech.
Always consult your doctor or pharmacist before taking piroxicam.
If your condition does not improve or becomes worse, then call your doctor.
Driving or operating machinery should be avoided, as it may cause dizziness.
Some medical conditions may interact with piroxicam. Tell your doctor or pharmacist if you have any preexisting medical conditions.
Piroxicam can increase your risk of fatal heart attack or stroke, especially if you use it long term or take high doses, or if you have heart disease. Do not use this medicine just before or after heart bypass surgery (coronary artery bypass graft, or CABG). Piroxicam may also cause stomach or intestinal bleeding, which can be fatal. These conditions can occur without warning while you are using piroxicam, especially in older adults.