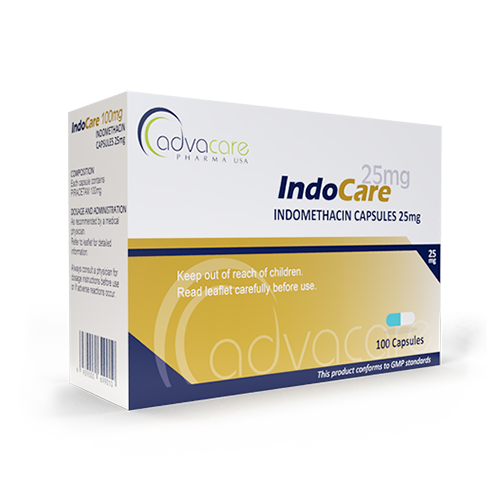 Loading…
(choose the specifications you require below)
Packaging:
10 capsules/blister, 1 blister/box;10 capsules/blister, 10 blisters/box;1,000 capsules/bottle
Therapy:
Nonsteroidal Anti-inflammatory (NSAID)
Active Ingredients:
Indomethacin
General Information:
AdvaCare is a GMP manufacturer of Indomethacin capsules.
Indomethacin capsules are a group of drugs called nonsteroidal anti-inflammatory drugs (NSAIDs) that works by reducing hormones that cause inflammation and pain in the body. It is effective in reducing hormones that cause pain, inflammation, and stiffness caused by many conditions such as osteoarthritis, rheumatoid arthritis, gout, ankylosing spondylitis, tendinitis, and bursitis.
Indomethacin is an antipyretic and an analgesic drug.
Side Effects:
As with all pharmaceuticals, some unwanted effects can occur from the use of indomethacin. Always consult a doctor or health care professional for medical advice before use.
Common side effects include, but may not be limited to stomach aches, heartburn, and nausea.
For a comprehensive list of all possible effects, consult your doctor.
If any symptom persists or gets worse, or you notice any other symptom, then please call your doctor immediately.
Always consult your doctor or pharmacist before indomethacin.
Driving or operating machinery is okay as it should not impair motor functions.
Do NOT use indomethacin if:
You are currently taking blood pressure medications or antidepressants or other anti-inflammatory/ pain medicines.
There is little evidence with regards to the use of indomethacin during pregnancy or breast feeding, and so consult your doctor or health care professional before taking it.
Refer to your doctor or pharmacist for guidelines on dosage. Do not exceed what they advise. Usual dose for adults is: 25mg 2 to 3 times a day depending on its attended purpose. Usual dose for children is 1mg to 2mgs from ages 2 to 14 years and 25mg for 14 years and older depending on its attended purpose.
Possible interactions with indomethacin are antidepressants, blood medication, and other pain or anti-inflammatory medicines. Do not drink alcohol beverages while taking it. Consult with your doctor about any medications you are taking, before your treatment with indomethacin.