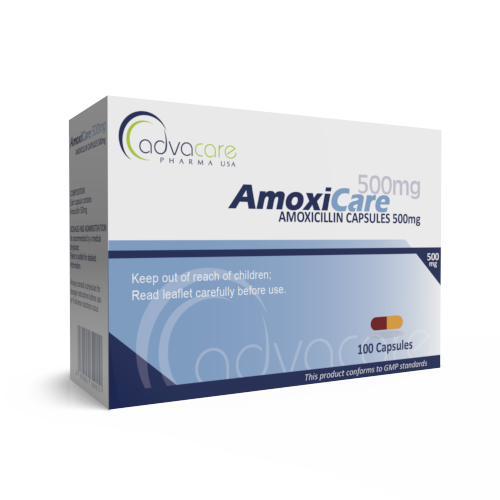 Loading…
(choose the specifications you require below)
Packaging:
10 capsules/blister, 1 blister/box;10 capsules/blister, 2 blisters/box;10 capsules/blister, 10 blisters/box;1,000 capsules/bottle
Therapy:
Antibiotic, Anti-infective
Active Ingredients:
Amoxicillin trihydrate
General Information:
AdvaCare is a GMP manufacturer of Amoxicillin capsules.
Amoxicillin (amoxycillin) is a moderate-spectrum, bacteriolytic, beta-lactam antibiotic used to treat bacterial infections caused by susceptible microorganisms.
Amoxicillin is usually the drug of choice within the class because it is better absorbed, following oral administration than other beta-lactam antibiotics.
It is also sometimes used together with another antibiotic to treat other infections.
Amoxicillin capsules are used to treat many different types of infections caused by bacteria, such as ear infections, bladder infections, pneumonia, gonorrhea, and E. coli or salmonella infection.
Side Effects:
As with all pharmaceuticals, some unwanted effects can occur from the use of amoxicillin. Always consult a doctor or health care professional for medical advice before use. Common side effects include, but may not be limited to nausea, rashes, diarrhea, and vomiting.
Seek medical attention if the following develop: confusion, anxiety, insomnia, mental changes – lightheadedness, sensitivity to light and sounds, and unclear thinking, or if any reactions to amoxicillin occur; including flu-like symptoms, swelling, or difficulty breathing.
For a comprehensive list of all possible effects, consult your doctor.
If any symptom persists or gets worse, or you notice any other symptom, then please call your doctor immediately.
Always consult your doctor or pharmacist before taking amoxicillin.
If your condition does not improve or becomes worse, then call your doctor.
Driving or operating machinery should be avoided until you know how amoxicillin affects you, as it may cause an adverse reaction.
Do NOT use amoxicillin if:
You are allergic to amoxicillin, cephalosporins, or to any other penicillin antibiotic;
You have asthma, liver or kidney disease, a bleeding clotting disorder, or mononucleosis;
You are taking a tetracycline antibiotic.
Use of amoxicillin during pregnancy or breast feeding does not appear to be harmful. Consult your doctor or health care professional before taking amoxicillin.
Refer to your doctor or pharmacist for guidelines on dosage. Do not exceed what they advise. Usual dose for adults is: 500mg. Usual dose for children is: 40mg – 90mg a day depending on age and bodyweight.
Possible interactions with amoxicillin include methotrexate. Amoxicillin should not be taken with alcohol. Consult with your doctor about any medications you are taking, before your treatment with amoxicillin capsules.